Waaju Discuss Forthcoming LP & Premiere "Kaolack"
Olindo Records is delighted to present its second release and first LP by London based Afro-Latin Jazz quintet Waaju.
A project that never stands still, Waaju's members have been busy as part of other ensembles (Caravela, Bahla, Jordan Rakei, and Ashley Henry to name a few), which means they cherish each time they get to make music together. The five cuts on this LP are only a snapshot of what they're doing and continually trying to do – the tip of the iceberg – but one that speaks volumes about their intentions.
We got the chance to talk to Waaju's bandleader Ben Brown about how Waaju was formed, and how their album came to be.
What is the overarching idea / ethos of this release?
Ben of Waaju: Each of us in the band have a shared belief in constantly discovering new music and experiencing new things. This release is a snapshot into some of these discoveries bought into a modern soundscape and Western context, through our own writing. Citing Malian music as a centrepiece, we've found that most of the time here, 'African' or 'Latin American' music maybe refers to one or two styles of music or cultures – when realistically there are hundreds. Through our music, we aim to bring to light some of these lesser known forces and highlight the ways we've found they can change the way you feel music emotionally and through our bodies.
How did you all meet each other, and what made you want to get together to jam?
Sam (saxophonist), Tal (guitarist) and myself (Ben) all studied Jazz at London's Royal Academy of Music together. I kept crossing paths with Joe (bassist) on various thrown-together Jazz gigs and it always felt good meeting up. Ernesto (percussionist) was in kind of a different scene at that time, more the Salsa/Latin American scene, but I heard the name around lot and we eventually ended up playing together. I think partly it was because, at that time, we were all looking for a concept and project to really dig our teeth into creatively as, thrown-together gigs are really great, but I think there comes a point where you want to REALLY create something. I'd argue that playing with the same guys over and over again, with a concept that you all really believe in, is the only way to do that with any longevity. Also, we all have this shared love of a lot of this music and searching for new things as much as possible.
What was the creation process when recording?
The record was done in January 2017 at Narcissus Studios in London. It was my first record as bandleader so of course I felt a little nervous, but the whole process actually felt really natural and flowed nicely. I had a lot of trust in the guys  that they would play some good stuff as they're all very experienced. It actually came out even better than I expected! Most of the music was set out in some way as we'd tried to develop 'our sound' from my original compositions through playing together a lot and talking about it. But being improvising musicians there was always a lot of spontaneity in the process, which I feel is the way it should be. I think now being creative in the studio and just seeing it as an extension of the writing process is much more beneficial than the "we need to nail this" mentality that can easily creep in on the situation.
What was the hardest part to get right when creating this release?
Well, this has probably been the longest and most arduous experience of my life [laughs]. There have been many bumps along the road. Although the recording itself flowed very naturally, most of the stages since have had some difficulty along the way, but there's not really any part of it that I would change as the playing, recording, mixing, mastering, artwork, pressing, and everything has all turned out amazing! I think that's ultimately what matters most. The difficulties in the process have made me dig deep and question a lot of what I'm doing, which is hard, but also very healthy. Each time I've done that, I've come to conclude more strongly that it's worth doing! Because of the process I think I now appreciate music in a whole new way and on a much deeper level than I ever have before.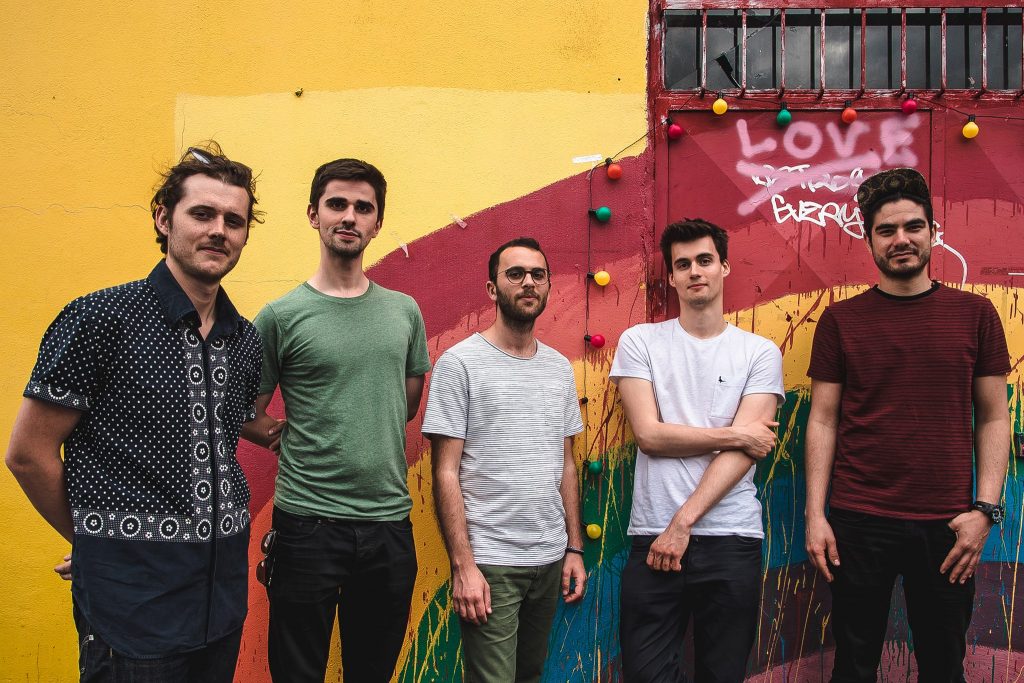 Can you explain what the name Waaju means, and are there any song titles that have interesting stories behind them?
In Bambara, which I think is Mali's most widely spoken native language, a 'Waaju' is a communication that's passionately urging the listener to do something. The song title 'Ali's Mali' is sort of our ode to the legendary Ali Farka Toure, who's one of the big influences of the band. In March we were actually asked to make an Ali Farka Toure Reimagined show at London Jazz Cafe, playing his music in a Waaju soundscape which was a huge success and we hope to do more with. 'Kaolack' is a region in Senegal and the name of a rhythm found in much of Sabar and Mbalax music. 'Neleh' is my mum's name reversed, as one year I forgot to get her a Mother's Day present because I was rushing to get this tune finished! 'Waaju' the tune to me sounds like an encapsulation of the 'Waaju' description I gave above. Finally, 'Maroc' is based on the Gnawa and Chaabi music I heard when in Marrakech a couple of years ago.
How did you link up with Olindo Records?
Well, Miguel (who runs Olindo) and Ernesto (our percussionist) know each other from both being part of the Venezuelan community in London and had worked together in organizing a gig with Ernesto's own Venezuelan band. Then they heard about us and I found that we had similar tastes in discovering new music. Both Miguel & Oli at Olindo have very interesting, eclectic, and large record collections too, which I respect in anyone!
If you were a DJ, what songs would you play before and after this album?
That's a tricky one – I think Ali Farka Toure's 'Niafunke' before this album would give the listener an interesting transition of bringing his sound into a more Western, modern soundscape. It's a classic album and my favourite of his. It has some amazing tunes, a great sound, and a good story behind the album. Majid Bekkas' "Al Qantara" would lead nicely on from this album. A bit lesser known, Majid's new takes on the Moroccan Gnawa tunes are really powerful with some great playing and vocals throughout.
Do you plan to tour the record?
Yes! We're doing a tour 16th-22nd April going to Oxford, Glastonbury, Stroud, Bristol, Cardiff, and Birmingham. We'll hopefully do another run in the North of UK later in the year too and there will be plenty of London and one off gigs all over in between. We've got our album launch on July 5th at Total Refreshment Centre which we're particularly excited about. We'd like to expand into the rest of Europe in the next year or so too!
Waaju is:
Ben Brown – drums, percussion
Sam Rapley – tenor saxophone
Tal Janes – guitar
Joe Downard – bass
Ernesto Marichales – percussion
---
Follow: