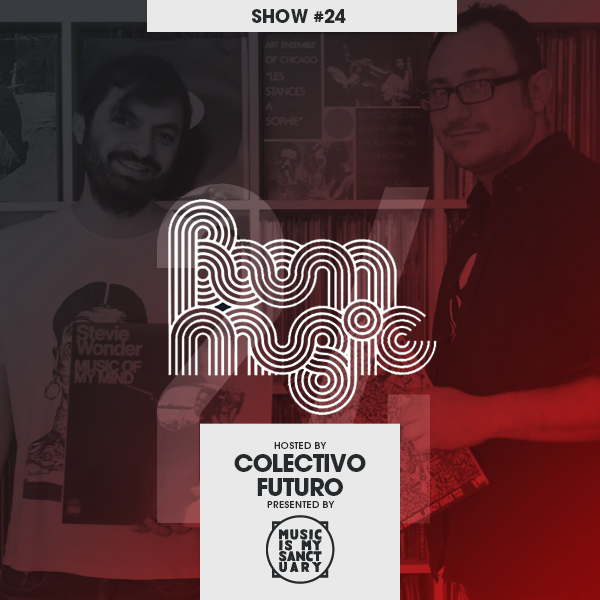 BOOM MUSIC Show #24 – Hosted by Colectivo Futuro
Boom Music, as inspired by Quasimoto's track of the same name, started out as a monthly party hosted by Miguel and Oliver from Colectivo Futuro in London.
Without having to list out a bunch of genres we like to cover, we think of the term as an all encompassing label. Our two hour show features all kinds of music for and from the soul, from Alice Coltrane to Basic Channel, recorded at Colectivo Futuro's HQ in London, and often with a special guest joining us for the ride.
TRACKLIST
Pharoah Sanders – Greeting To Saud (Brother McCoy Tyner) (Impulse!)
Phil Ranelin – Freddie's Groove (Wide Hive Records)
Day Is Over 458 R.T. (DJ Sotofett Edit) (Jazzpuu)
Krakatau – Apogean Tide (Growing Bin Records)
Reginald Omas Mamode IV – We Gotta Make It Happen (Five Easy Pieces)
Will Sessions – One Love (Fat Beats)
Chris Bowden – Beautiful Nasty (4 Hero Remix) (Ninja Tune)
Saul WIlliams – Twice the First Time (Ninja Tune)
Deltron 3030 – Virus (75 Ark)
AmmonContact – Omniverses 2 (In Tribute To The Late Mary Hansen And The Ever Wondrous Stereolab) (Ninja Tune)
Pan Y Regaliz – Today It's Raining (Está Lloviendo) (Wah Wah Records)
José Mauro – Apocalipse (Far Out Europeans)
Gal Costa – Pontos De Luz (Philips)
Cesar Mariano & Cia – Fábrica (Sony Music)
Oddisee – Live From the Drawing Board (Mello Music Group)
Kaidi Tatham – The Extrovert City (2000 Black)
Jazzanova – Dance The Dance (JCR)
Henry Wu & Tito Wun – Don Müller (Tartelet)
Maisha – Africa (jazz re:freshed)
Shabaka And The Ancestors – The Observer (Brownswood Recordings)
Louis Moholo-Moholo – You Ain't Gonna Know Me 'Cos You Think You Know Me (Ogun)
DOWNLOAD LINK