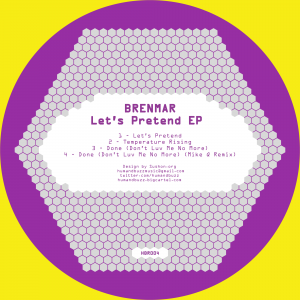 Here are some tunes that have simply refused to leave my side over the past few weeks! In what many are calling Chicago/NYC club connoisseur Brenmar's best release to date, the Let's Pretend EP (Hum+Buzz) shows off stunningly-crafted arrangements combined with smooth studio-esque style productions, setting these tracks apart from his more-often raw booty-bangin beats.
Let's Pretend lays some Chris Brown samples atop mysteriously eerie "sci-fi" synth lines, while Done (Don't Luv Me No More) acts as a half-timed bass-bouncing slow burner and infuses a small-yet-complex juke breakdown. DJ MikeQ also decides to put aside his predispositions towards unseasoned club-focused production on the remix yet still manages to hammer out a steady 4×4 party jam.
The highlight here is easily Temperature Rising, taking from Avant's sultry love-making anthem Making Good Love. Although not as crude as Brenmar's new free download "Let me Hit Dat", the sexual themes are obvious and add a tinge filthy fun. The result brings to mind the poppy 2-step playfulness of Artful Dodger (not to mention their use of sexy RnB vocals) married with cosmic chords, and a basketball-like kick drum. What makes this track even more appealing is the seemingly-sporadic yet-somewhat subtle baseline throwing itself repeatedly in four-bar loops during the chorus.
All I can say is, if you haven't heard this out already, maybe you're going to the wrong parties.
Brenmar - Tempetature Rising