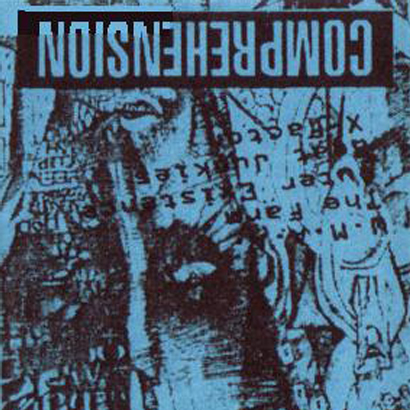 Classic Mixes: Dj Babu / Kankick "Comprehension" Cassette Tape (1999)
I heard about this classic mixtape through Kutmah who named it as one of his favorite mixes of all-time. So I decided to dig it out and found a copy floating out there. The mixtape is from the late 90's and was distributed through Fat Beats. It featured Babu of the World Famous Beat Junkies and Kankick, legendary but under appreciated producer from the West Coast who I heard about only a few years ago from my good homie Onra.
This is serious stuff right here. I don't mean to sound too nostalgic but it's always awesome to go back to mixes that are pre-2000's, you know there's no Serato auto-beat matching involved. Just pure DJ skills without any training wheels.
Side A
Comprehension - Side A (Dj Babu)
A01. DJ Babu* – Intro
A02. DJ Babu* – Jigsaw Mix
A03. DJ Babu* – Manipulated Farm Breaks
A04. DJ Babu* – DJ Shortkut vs. Babu (Rapsheet Battle Nov. 1994)
A05. DJ Babu* – Mostly The DJ's
A06. DJ Babu* – Untitled Piece #1
A07. DJ Babu* – Ode To The Suckers
A08. DJ Babu* – Untitled Piece #2
A09. DJ Babu* – Turntablism
A10. DJ Babu* – Outro
Side B
Comprehension - Side B (KanKick)
B01. Warped Mind – Us Origin Ill
B02. Warped Mind – Twenty-Nine
B03. Kan Kick – Rug Enlists
B04. Warped Mind – Prism Followers
B05. Kan Kick – Outer Nerd
B06. Warped Mind – Oboe Festives
B07. Ego (18) & Abstract Wine O – I-m-One
B08. Warped Mind – Warped Warmth
B09. Kan Kick – Soule (I Owe)
B10. Warped Mind – LAX
B11. Race 11 – Good Combination
B12. Wine O* – The Indicator
B13. Warped Mind – Fare Ting
B14. Warped Mind – Mind Professionill
B15. Warped Mind – Ex
B16. Warped Mind – Sell
B17. Warped Mind – Def, Dumb N Ignorant
B18. Warped Mind – Strange Jars