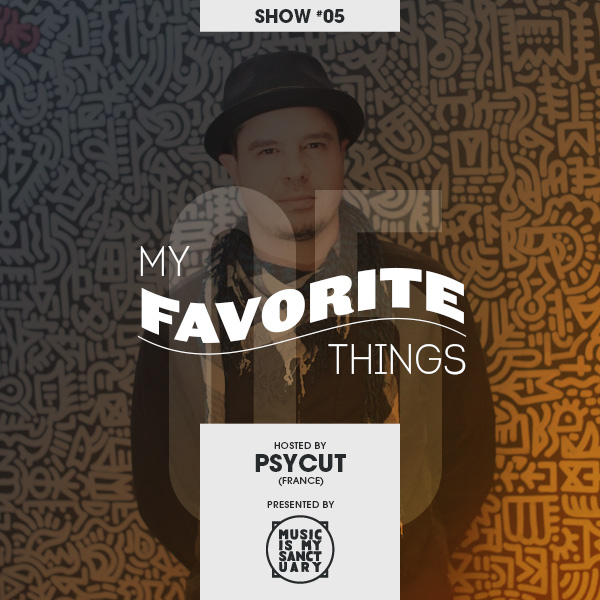 MY FAVORITE THINGS #05 – Hosted by Psycut
The My Favorite Things show is back!
This episode is a mix of brand new Hip Hop Jazz (Antonio Farao feat. Snoop, Maurice Brown feat. Talib Kweli and 72 Soul), Broken Beat (Brién), and Nu Soul (Orice Jenkins feat. Erica Bryan and Tang Sauce) nuggets. As a tribute to Charles Bradley I added a couple of my favourites from him, rest in peace. I also added some forgotten treasures from my vinyl collection – we've got the 2 fabulous 7inch only Mr Flash feat. Mike Ladd, and the bossa nova cover by the popular French singer Nana Mouskouri, the Lovely Jazz Soul Folk tracks by Henri Texier, David T. Walker, To Be, Freddy Robinson, Kyoto jazz Sextet, Oddisee and Gabor Szabo… enjoy!
TRACKLIST
01 – My Favorite Things Intro
02 – Antonio Farao feat. Snoop Dogg & Walter Ricci – News From
03 – Nana Mouskouri – La Fille d'Ipanema
04 – Mr Flash feat. Mike Ladd – Basmentized Soul
05 – Charles Bradley – The World (Is Going Up In Flames)
06 – Charles Bradley – Strictly Reserved for You
07 – David T. Walker – Lay Lady Lay
08 – Maurice Brown feat. Talib Kweli – Stand Up
09 – Orice Jenkins feat. Erica Bryan and Tang Sauce – Bye Bye Blackbird
10 – Gabor Szabo – San Francisco Knights
11 – 72 Soul – Pay The Bills
12 – Oddisee – Skipping Rocks
13 – Kyoto Jazz Sextet – Extra Freedom
14 – To Be – Glücklich
15 – Brién – Mid morning mood
16 – Freddy Robinson – Smoking
17 – Henri Texier – Les La Bas
DOWNLOAD LINK
Listen & Subscribe to My Favorite Things on iTunes