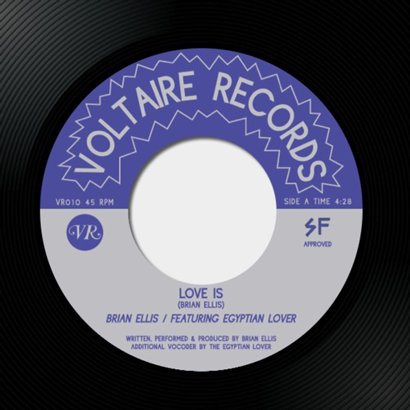 Future Classic: Brian Ellis "Love Is" Ft. Egyptian Lover (Voltaire Records)
It's been another great week regarding Modern Funk discoveries, but I just couldn't overlook Brian Ellis' new 45, now available on Voltaire Records. In last week's edition of my Voyage Funktastique radio show, I played the B-side, Electric Body feat. K.Maxx, so it was only natural that I play the A-side, Love Is feat. the great 808 master, Egyptian Lover. Here you have all the ingredients to create a riot on the dance floor; hypnotizing vocoder, furious synthesizers, a clap that will make you ears numb, and a rebellious electric guitar solo. Ellis has performed live at the legendary Funkmosphere, with his group, Reflection (Link).
Voltaire Records is based in San Franciso, California, and their line-up is pretty impressive : Loose Shus, K-Maxx, Night School, DMX Krew, XL Middleton & Eddy Funkster, just to name a few. Be sure to check their catalog : voltairerecords.bigcartel.com
---
Track taken from Walla P's most recent Voyage Funkastique Radio Show.