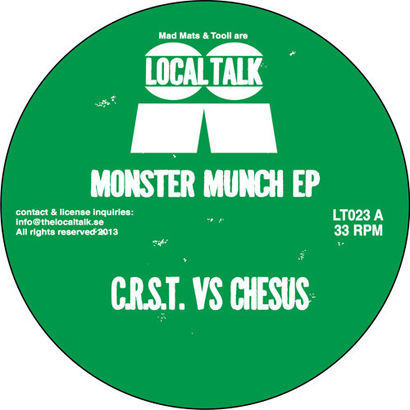 Future Classic: C.R.S.T. VS Chesus "Monster Munch EP"
Must admit that I got excited a little bit when I saw the names C.R.S.T and Local Talk in the same paragraph. After all, Local Talk has grown very rapidly grown into one of our favorite labels here at MIMS. Mad Mats' young label might only be 20 releases old but it's now one of the sure shots in terms of that revival of the late mid to late 90's US / UK Garage revival sound we love so much.
C.R.S.T is a 4 member production team from Welsh, UK that have produced some of our favorite tracks of the past few years like the amazing "Good Love", a track we've abused of and that always destroys any dancefloor.
So on Local Talk #23 you get a pretty bumping 4 tracker with "Monster Munch" that represents very well the crossing points between the US Garage heritage from people like Kerri Chandler and the early UK Garage foundation from people like Jeremy Sylvester and Tuff Jam.
Glorious!