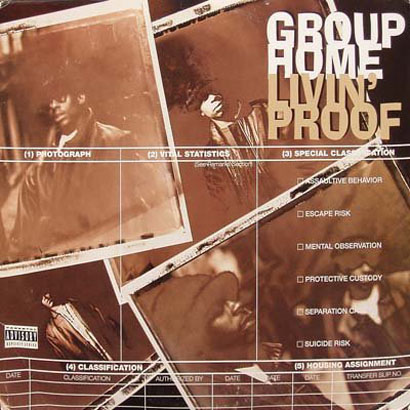 Forgotten Treasure: Group Home "Up Against Tha Wall" Getaway Car Remix (1995)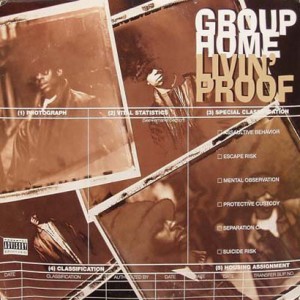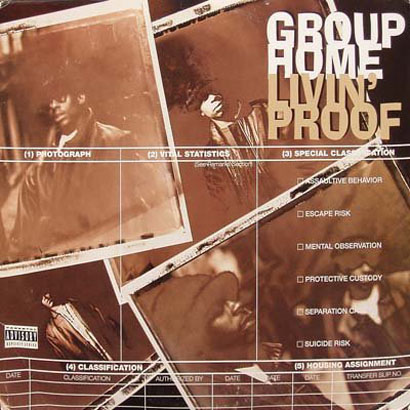 My homie put me up to this one I had forgotten (quite unforgivably) about a couple weeks ago, and it only felt normal that I should put it up on MIMS' "Forgotten Classics"…
I remember Lexis talking about the peculiar way certain tracks had a seasonal feel to them… No logic here either, but Group Home's "Up Against Tha Wall" remix most definitely has a winter kinda feel to it… Hell, the whole "Livin' Proof" album has a winter vibe through and through… The joint featured here is one of the lesser known pieces on the album, but it's still compelling as shit!… I can't help but think of bleak, snow covered cityscapes hittin' the back of your eyes as you walk through, the even bleaker people livin' in there and movin' about with you, and your own ass just trying to get through without becoming another sleepwalking automaton or, even worse, a goddamn statistic… Have no fear, son: this track right here will help you get by all the bullshit…
This is Primo at a time when he came out with some of his finest production work. I mean, who can forget "Supa Star"?… The rhyming on the album wasn't stellar, but the energy, honesty and earnestness from then youngin' emcees Lil' Dap and Melachi the Nutcracker are up there with the timeless productions of Primo… The recording took place in the legendary D&D Studios and this album, along with so many other seminal releases that came out in '94 and '95, made a rather deep impression on the minds of Hip Hop heads from then until now… Hip Hop history, y'all…
I have no excuse posting this up right now since we're in the dead of summer here in Montreal, but the last few days have been kinda chilly, colder than usual… So why not?
Group Home - Up Against Tha Wall (Getaway Car Remix)
The Gang Starr Foundation alumni (I feel it's an appropriate word to use) are still doing their thing, by the way. Lil' Dap and Melachi have done a few releases since, with their latest coming out in 2010 and being a tribute album to their late friend and mentor, Guru.
Oh, and I almost forgot… This joint contains a sample of The Young Holt Trio's "Red Sails In The Sunset", off of their first release, in 1966, titled "Wack Wack"… Same album on which you can find the song "Strangers In The Night", which was used for another classic Primo production from '95, "Return Of The Crooklyn Dodgers" (featured in Spike Lee's joint "Clockers"), which happens to be another winter, walking-through-the-dreary-grey-of-the-city type of track… See, I like when things go full circle… Plus my winter playlist is shaping up quite nicely…