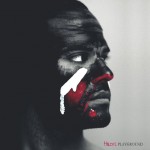 Very very strong EP coming all the way from La France. Hazel is a guy that is not getting the love he deserves but it's only a question of time really. When Onra told me about his project of starting a label I didn't think he was gonna start it off with something as strong as this!! So… Catblock Records #001 is now here and the 6 track EP is just butter!
After gaining a solid reputation over the past few years thanks to his numerous productions for artists such as Drake or Slakah the Beatchild to name just a few, French producer Häzel finally presents his first solo project. These voluntarily J-Dilla influenced 6 tracks build a superb Hip-Hop/Soul opus.
"Playground" will also be released on Catblock Records, new label launched together by Favorite Recordings and Onra. Under the successful French beatmaker"s artistic direction, Catblock should quickly establish itself as one of the essential imprints from the contemporary Hip-Hop/Electronic music scene.
2011 is not Häzel's year. He already had it. You're just late for the celebration.
Hazel - Twilight


Hazel - Playground