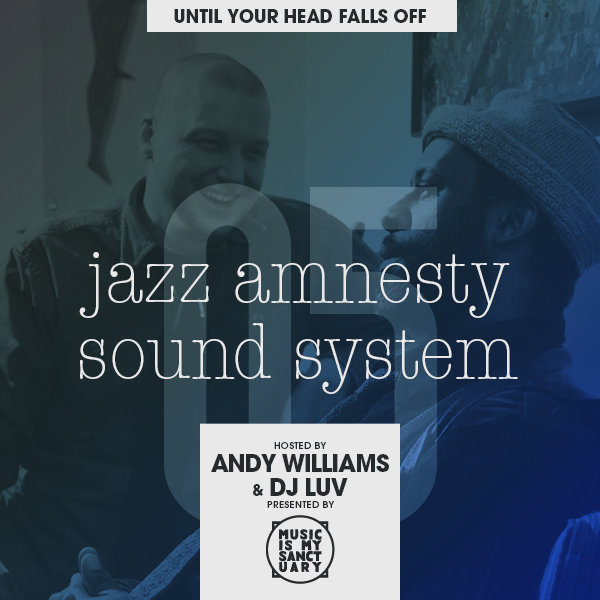 JAZZ AMNESTY SOUND SYSTEM #05 – Until Your Head Falls Off
The Jazz Amnesty Sound System prepared this selection with the mandate of keeping audiences heads bobbing up and down until they fall off.
You've been warned! Check your neck periodically during this mix to ensure your mind and body stay attached.
TRACKLIST
Piero Umiliani – Genova, P.zza De Ferrari, Dalle 2 Alle 7 (Easy Tempo Records, 1969/1998)
Maynard Ferguson – L-Dopa (Columbia, 1967)
Woody Herman – Fat Mama (Fantasy, 1972)
Stark Reality – Rocket Ship (Stones Throw, 1970/2002)
Bo Square – Outer Space Suite (Tino Corp, 2000)
Headnodic – Larai (Insiduous Urban Records, 2000)
Sun Ra – Where Pathways Meet (Philly Jazz, 1978)
Quantic & Mr. Scruff – Giraffe Walk (Tru Thoughts, 2006)
Rednose Distrikt – Jook (Kindred Spirits, 2003)
DJ Spooky That Subliminal Kid – Ibid, Désmarches, Ibid (Thirsty Ear, 2002)
Innerzone Orchestra – Timing (Planet E, 1999)
Henry Mancini – Police Woman (RCA, 1976)
Jayson Lindh – Loadup Ramp (CTI Records, 1971)
Michael Urbaniak Group – Irena (Catalyst, 1976)
Amina Claudine Myers – 3/4's of 4/4 (Soul Jazz, 1979/2009)
Herbie Hancock – Steppin' In It (Columbia, 1975)
Jimmy Owens – Do It To It (Horizon, 1976)
Dimencio – Bamba (Pepita, 1981)
Yesterday's New Quintet – You've Got It Bad Girl (Stones Throw, 2004)
Gil Scott-Heron – Lady Day and John Coltrane (BMG, 1974/1998)
DOWNLOAD LINK