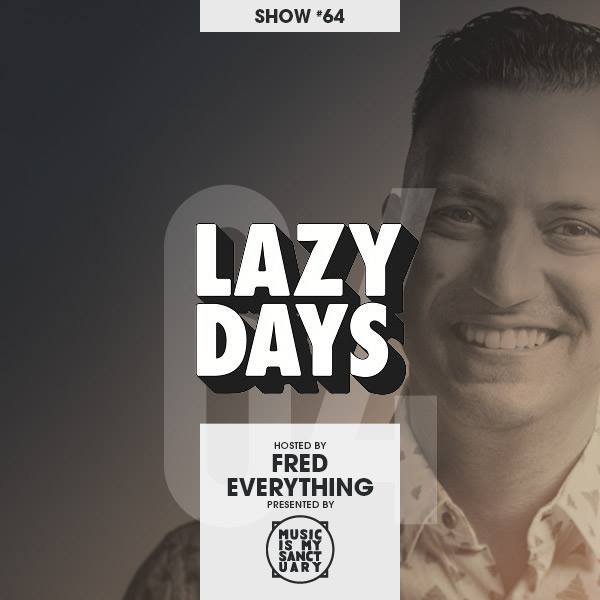 LAZY DAYS – Show #64 (Hosted by Fred Everything)
Last show of the summer for me, taking a break in August while away in Europe.
Starting this mix a little slower than usual, featuring brand new music by King Britt X Dixon, Joey Negro, Chez Damier, Ian Pooley, Lake People as well as regulars on the show like : Crazy P X Hot Toddy, The Revenge, Detroit Swindle, Jimpster, Til Von Sein, Eye Cube (I:Cube) and Henrik Schwarz. Enjoy!
TRACKLIST
1. Micheal The Lion feat. Amy Douglas "Getting It On" (DJ Bruce's Feeling Mix) – Soul Clap Records
2. King Britt ores. Obafunke "Uzoamaka" (Dixon Update) – Losseless
3. Crazy P "In My Hands" (Hot Toddy Remix) – Classic Music Company
4. The Revenge "Grit" – Dirt Crew
5. Jimpster feat. Jinadu "The Sun Comes Up" (Peggy Gou 6am Mix) – Freerange
6. Joey Negro "It's More Fun To Compute" – Z
7. Til Von Sein "Ambush 77" – Tilly Jam
8. Eye Cube "Disk Two" – Versatile
9. Detroit Swindle "Can't Hold It" – Heist
10. Pablo Bolivar "A Special Night" (Ian Pooley's Baseline Dub) – Peppermint Jam
11. Chez Damier, Eddie Leader & Tomson "I Am With You" – Hudd Traxx
12. Lake People "Tomorrow's Happiness" – Mule Musiq
13. J. Bernardt "Wicked Streets" (Henrik Schwarz Remix) – PIAS
DOWNLOAD LINK
Listen & Subscribe to LAZY DAYS as a podcast on iTunes