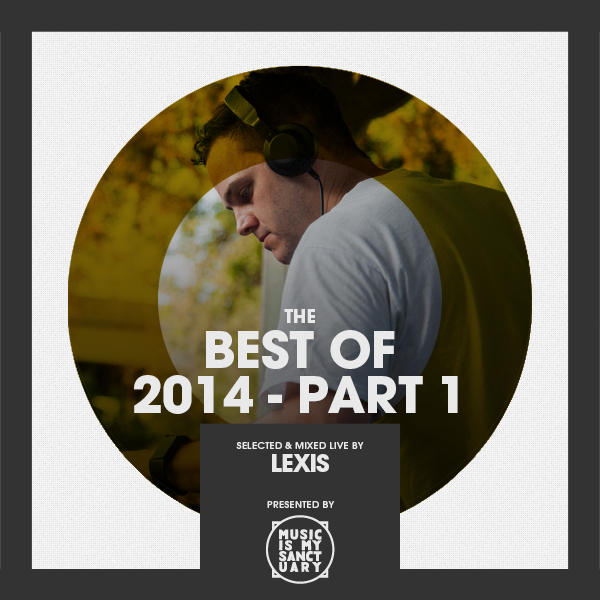 LEXIS' Best of 2014 (Parts 1 & 2)
I do the same insane amount of music research every year but it truly feels like 2014 was a very memorable one.
It may sound silly to say but even in doing a 5 hour best of the year selection I had to leave out a ton of outstanding tracks. This mix is more of a representation of my favorite 2014 jams to play in a club setting. There are tons more which are more listening material which I put on my monthly MIMS Radio Show.
Recorded live at the monthly MUSIC IS MY SANCTUARY monthly night in Montreal (Bleury Vinyl Bar)
Part 1

Apollo Brown – The Answer
Mndsgn – Camelblues
Mick Jenkins – Rain
MAIA – Life Is A Lie
Al Dobson Jr. – Cigar Box
Flying Lotus – Turtles
Shabazz Palaces – Forerunner Foray
Black Milk – Everyday Was ft. Mel
Guts – Musicotherapy
The Doppelgangaz – Holla X2
Eman X Vlooper – MANTRA
Joey Bada$$ – Christ Conscious
Buckshot – At Night (3AM Sh*t)
Betty Ford Boys – The Symphony (Jeeep Volume)
Lost Midas – Head Games (Instrumental)
Paper Tiger – Irresistible feat. Sabira Jade
Lone – Jaded
BKR$CLB ChillxWill – 911
Jehst – Killer Instinct (Om Unit's Cosmetic Disco Mix)
Vanilla – Girl
Headnodic – Ponderance
Amin Payne X Ben Bada Boom – Uturn Meon (Suff Daddy Remix)
Steve Reich – Electric Counterpoint ( Monk' rework )
Drew Lustman – A Thorough Study
Moodymann – Sloppy Cosmic
Paul White – Fighting To Dance
Bacao Rhythm & Steel Band – Bacao Suave
Reva DeVito & Roane Namuh – Champagne (Hot16 Remix)
Fatima – Biggest Joke Of All
Taylor McFerrin – The Antidote (Feat. Nai Palm)
Photay – Illusion of Seclusion
Arca – Slit Thru
Munro – SIBWIR
High Inergy – It Was You Babe (Young Pulse Rework)
Barrington Levy – Gimme the grass (bosq rework) (1)
Temu – Funk Over Egypt
Daniel Crawford – Dancing Machine Remix *
Souleance – Dum Dum (Digital Only)
Prequel – Fidelio
FaltyDL – Some Jazz Shit
Stump Valley – Hollywood
Merwyn Sanders & Inkswel – Eternal Freedom (Inkswel's Sugarhill Mix)
Dan Shake – 3 AM Jazz Club
Harvey Sutherland – Oscillate
Jay Daniel – Royal Dilemma
SoulPhiction – When Radio was boss
Dorian Concept – 11.04.2012
Kassem Mosse – Workshop 19 A3
Aphex Twin – Minipops 67 (Source Field Mix)
Burial – Lambeth
Mr. Mitch – Fly Soup

Download Part 1 (Save As:)
---
Part 2
Part 2 Tracklist: Coming Soon