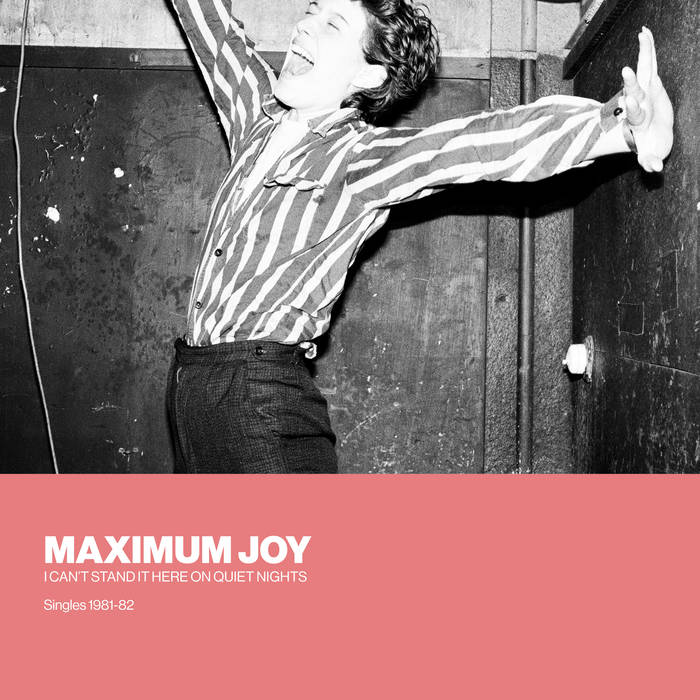 Maximum Joy "I Can't Stand It Here On Quiet Nights" (1981 – 1982, Silent Street)
via Silent Street: "Maximum Joy is an aspiration, a claim to passion. To call a band 'Maximum Joy' is to ask a huge question – what is the very best you ever felt or hope to feel and more importantly how far can you take it?"
Silent Street is a new collaborative label from Chris Farrell (Idle Hands) and Kiran Sande (Blackest Ever Black). For our first release we're proud to present "I Can't Stand It Here On Quiet Nights", a compilation of singles by one of our shared musical lodestars; Bristol's extraordinary Maximum Joy.
As a name, Maximum Joy couldn't be more apt: theirs is music of uncommon passion, a giddy celebration of music and of life itself (is there a difference?). With a youthful confidence and energy that leaps out at you even now, they took their diverse influences – punk, modern jazz, disco, dub, funk, soul, early hip-hop, Afrobeat and chansons – and distilled them into what is, we don't mind saying, some of the greatest, most intoxicating pop music ever made.
The band was formed in 1980, by 18 year-old photography student and vocalist Janine Rainforth alongside Tony Wrafter, a trumpeter/saxophonist previously affiliated with Glaxo Babies. Wrafter's former accomplices, Charlie Llewellin (drums) and Dan Catsis (bass), completed the original line-up, alongside erstwhile Pop Group guitarist John Waddington.
Together they carved out a story which today stands as a sumptuous feast for anyone interested in the roots and evolution of the Bristol sound. Along with prior associations with The Pop Group and Glaxo Babies, there are links, back and forth, with The Slits and Dennis Bovell, Adrian Sherwood and On-U Sound, the Berry Street "hole in the ground" studios, and so on, through to the Wild Bunch, Massive Attack, Smith & Mighty, and Tricky's 'Aftermath'.
Thirty-five years on its impossible not to be blown away by their combination of instrumental virtuosity and DIY pluck, and by their fearless application of disorientating dub FX. In terms of open-minded, progressive and life-affirming music made in the post-punk era, little else comes close.
"I Can't Stand It Here On Quiet Nights" is centred around the trio of singles the band released on Dick O'Dell's Y Records between 1981-1982. Their first, 'Stretch', was licensed to seminal American label 99 Records and soon after became an anthem on the New York club underground, a cult staple at Danceteria and on late-night radio. Closer to home and a shared personal favourite is their first B-side, 'Silent Street / Silent Dub': a languid, haunting tribute to long summer nights in St. Pauls (where the Idle Hands shop presently resides), and specifically the Black & White Cafe, "where dub-reggae reigned supreme, 24/7". Llewellin's mesmerising one-drop kit and Catsis's outrageously heavy bassline anchor the track, allowing Rainforth's exquisite vocal and Wrafter's trumpet to soar within the intense, expressionistic dub mix. In both subject matter and execution it is the definitive Bristol tune.
'White And Green Place (Extraterrestrial Mix)', 'In The Air', and wistful instrumental 'Simmer Til Done' also feature; the non-Y bonus is the 12" version of 'Do It Today', Maximum Joy's contribution to the Fontana compilation Touchdown, which originally came out in '82 as a white label split with The Higsons.
"I Can't Stand It Here On Quiet Nights" is the first official UK vinyl reissue of Maximum Joy material and will be released on 2×12" vinyl in June 2017, with sleevenotes by Janine Rainforth, Tony Wrafter and Kevin Pearce. We invite you to acquaint, or reacquaint, yourself with the eclectic, exhilarating work of Bristol's finest, brightest pop idealists.
"I Can't Stand It Here On Quiet Nights" releases September 8, 2017 on Silent Street