MIMS 24 Hours of Vinyl Marathon in Pictures (2nd Edition)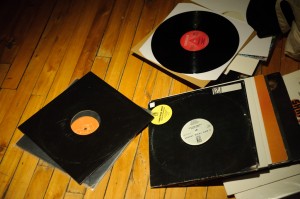 Doing a recap of our 24 Hours of Vinyl is very tricky for me because I'm just so exhausted by the end that my memories of it are a bit hazy. Staying in a studio with no windows and listening to over 10 Dj's play their hearts out for a full day is a bit trippy. No drugs needed (ok maybe just a little bit of alcohol)
Two months after the first one, the second edition didn't dissapoint: Over 3,000 listeners from all over the world tuned in and shared with us this great musical journey. Some warriors stayed with us for about 20 hours!
Major props go out to the DJ's of course. Brace started things out with a great set of abstract and downtempo beats. Then Scott C stepped in and delivered some quality future soul (I've been calling his shit future soul forever, and he's still futuristic!). Sevdee followed with some of his favorite records but what stole the show was the fact that he DJ'd in the flip flops he brought for the show. Hey, the man wants to be confortable.
HGLDT kicked off the night shift with some great electronic jams ranging from house, techno and garage. Seb Diamond followed and handled the graveyard shift with gusto. So much so that he and Doc'trin got carried away and knocked one of the turntables over. (Thankfully I had a back up SL-1200). We got saturday morning started with da boompty sounds of Manzo who did a Dilla tribute, then Poirier delivered a second outstanding set of treasures. Mossman followed with tons of uber rare reggae joints. Bliss brought the funky breaks he is known for, Simahlak then killed us with an hour and a half of brilliant music delivered at a frantic pace. Skinnybones was our last guest and came through even though he was sick as a dog.
Then, on an hour of sleep Lexis finished off the event with a 3 hour set ranging from dancefloor jazz, broken beats, soul and hip-hop.
We're already excited about the 3rd Edition (stay posted!)
(Pictures by Philippe Sawicki)
[nggallery id=18]