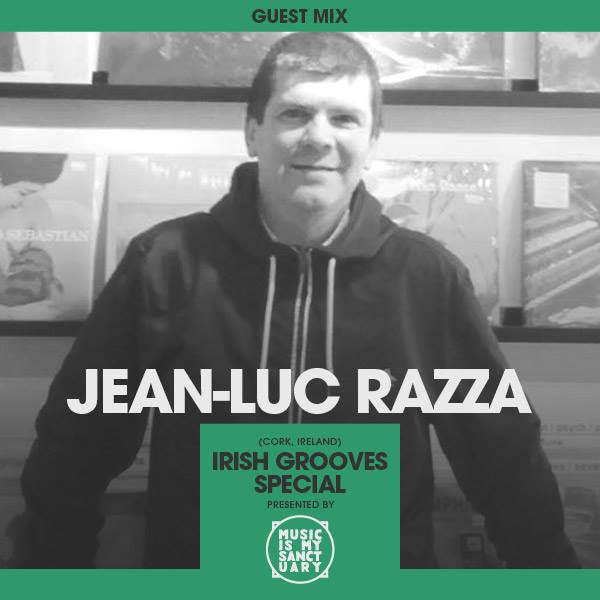 MIMS Guest Mix: Jean-Luc Razza (Cork, Ireland)
I've wanted to do a mix of Irish artists from each decade (1960 – 2010) for some time now.
When picking the music for this mix, I also tried to make it make sense together. There are well known bands in there, House music, traditional Irish, Boogie, Reggae influenced and so on. I've used Spoken Word albums as well to layer over some. Enjoy!
TRACKLIST
1) GILBERT Ó SULLIVAN Intro
2) AUTO DA FÉ – "There They Stood" 1985
3) SUNSHINE – "Give It To Me" 1981
4) STANO – "Dream and The Little Girl" 1987
5) SINÉAD Ó CONNOR/IARLA Ó LIONÁIRD/AFRO CELT SOUND SYSTEM – "Release" (MAW) 2000
6) SUBMERSIBLE MACHINES – "When Whales Fall" 2010
7) THOSE NERVOUS ANIMALS – "Hyperspace" 1985
8) STOCKTONS WING – "The Golden Stud" 1982
9) CLANNAD – "Why Worry" 1990
10) MIGHTY SHAMROCKS – "Condor Woman" 1981
11) THE BLADES – "Those Were The Days" 1985
12) DSP – "Sins I've Lost (One)" 2002
13) CLANNAD – "Darkmere" 1984
14) THE EDGE/ JAH WOBBLE/ HOLGER CZUZAY – "Hold On To Your Dreams" 1983
15) STAGALEE – "Give a Little Love" 1978
16) COLM K feat. ELAINE DOWLING – "Basics" (Jugoe Dub)" 2011
17) MOVING HEARTS – "Oil Sheikhs" 1983
18) PUMPHOUSE GANG – "Welcome Back To My Life" 1979
19) GILBERT Ó SULLIVAN – "Too Much Attention" 1971
20) THIN LIZZY – "Johnny the Fox Meets Jimmy the Weed" 1976
21) JOHN DALY – "The Equalizer" 2007
22) DAVY SPILLANE – "Carron Strand" 1990
23) CLANNAD – "Níl Lá Na Gaoithe Lá Na Scoilb" 1982
24) HORSLIPS – "Ring a Rosey" 1975
25) THE BLADES – "Talk About Listening" 1984
26) COLM K – "The Attic" 2013
27) PAUL BRADY – "Night Hunting Time" 1981
28) LOUIS STEWART – "Con Alma" 1978
29) BOOMTOWN RATS – "House on Fire" 1982
30) MOVING HEARTS – "Titanic" 1985
31) RORY GALLAGHER – "I Fall Apart" 1979
32) VAN MORRISSON – "TB Sheets" 1973
33) NATURAL WILD – "Hot and Sexable" 1985
34) FISH GO DEEP – "Dollface" 2001
35) FISH GO DEEP – "Can't Stop" 2004
36) JOHN DALY – "Falling Angels" 2008
37) VAN MORRISSON – "Astral Weeks" 1968
38) THE GLOAMING – "The Sailors Bonnet" 2013
39) FISH GO DEEP – "The Jazz" 2002
40) THE POGUES – "And The Band Played Waltzing Matilda" 1985
41) GILBERT Ó SULLIVAN Outro
DOWNLOAD LINK