MIMS Radio Live Sessions – S02E01
And we're back in full force for another great season of MIMS Radio live sessions presented by Centre Phi in Montreal's beautiful Old Port!
This episode features lots of good stuff from Montreal's local scene. We've got an in-studio performance from R&B duo Heartstreets, an interview with Jeff Waye of Third Side Music (formerly of Ninja Tune) speaking on copyrights in today's musical climate, and Kris Guilty of La Rama Records sharing some fresh gems from the bins.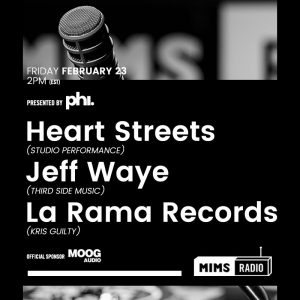 Crucial Material (0:04:30)
In Situ: Heartstreets (0:34:30)
Version Excursion with ASMA (0:50:30)
Game Changer: Jeff Waye (01:08:55)
The Geek Down with Walla P (01:31:00)
Over The Counter with La Rama Records (01:44:45)
Listen to the Full Show
Listen & Subscribe on iTunes
Tracklist
Crucial Material
Bonjay – How Come
Nubya Garcia – When We Are
Modified Man – Kingswood Drive
Khruangbin – Maria Tambien'
Version Excursion
Nina Simone – Baltimore
Tamlins – Baltimore (Sly & Robbie Dub)
Jay-z feat. Frank Ocean – Caught Their Eyes
Game Changer
Sofi Tukker – Best Friend
Bobby "Blue" Bland – I'll Take Care Of You

Geek Down
Anri – Last Summer
Makoto Matsushita – Love Was Really Gone
Hiroshi Sato – You're My Baby
Guest Artist Links