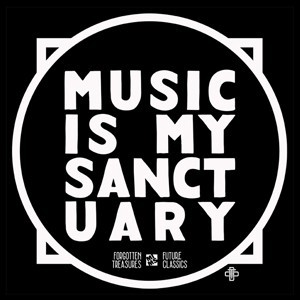 Music Is My Sanctuary – Show #44
Been a month since the last podcast and things have been pretty busy on the DJ side of things but the great thing is that it's forced me to dig even more than usual… if that's even possible. Big big thanks to everyone who supports the events we do. February was fun with Quantic, Samiyam, Teebs and Soulphiction all rolling through Montreal and March and April will be even better with Mount Kimbie, Jamie Woon, 2562 and tons more on the menu.
Hope you discover tons of new things on Podcast #44. Big shoutout to homie Fullrange who helped me pick some of these. Do yourself a favor and go check out his mixes on Mixcloud.
Tracklist
01. Seiji – Sticks (0:00)
02. Silkie – It's Late (3:15)
03. Mau'lin – Deeper Than The Sun (06:00)
04. MJ Cole – TGV (08:45)
05. Martyn – For Lost Relatives (11:30)
06. Kowton – She Don't Jack (15:15)
07. Lone – Cloud 909 (18:00)
08. Take – Begin End Begin (Falty Dl Remix) (20:00)
09. Bakey Ustl – Nose Candy (23:15)
10. Ital – Queens (26:30)
11. Mim Suleiman – Nyuli (30:00)
12. Sara Schiralli – Paranoid (33:45)
13. Full Crate – 80's Sugar (feat. Mar) (37:00)
14. Grooveman Spot – Ur Luv (Woo) (40:30)
15. Monkey Robot – Neverending Rhodes (44:00)
16. Jesse Boykins – B4 The Night is Thru (46:45)
17. Slum Village – Don't Fight The Feeling (50:30)
18. Bilal – The Dollar (Black Milk Remix) (53:30)
19. Dee La Kream & Declaime – Old School (56:30)
20. Häzel and Ebrahim – This is Dope (58:45)
21. Eric Lau – What the world should be (60:15)
22. Freddie Joachim – Quick (1:01:45)
23. AFTA-1 – 4nia (1:03:30)
24. Miles Bonny x Ta-Ku – Down To Earth Club Music (1:05:15)
25. Wagon Christ – Harmoney (1:08:00)
26. Apollo Brown – Shoot The Heart (1:10:30)
27. Polyester Feat. Zipp, Skeme, Casey Veggies – Keep It Real (1:12:30)
28. Freddie Gibbs – The Ghetto (1:14:40)
29. Pharoahe Monch – Clap (1:17:45)
30. Shashu – Beat # 03 (1:20:30)
31. Lewis McCallum – Fly Or Die (1:22:30)
32. Nicky Lars – Get Back (biatch!!!) (1:26:45)
33. Fatima x Alex Nut – Waist High Jeans (1:29:00)
34. Taylor McFerrin – Done For (1:31:00)
Download Link