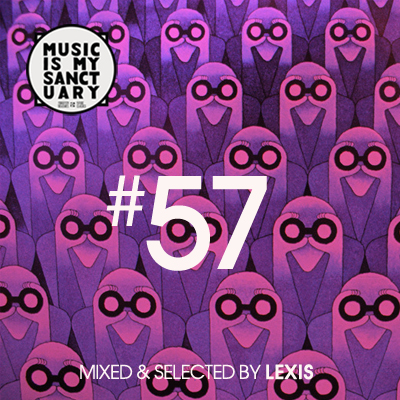 Music Is My Sanctuary – Show #57
Really sorry about the delay but we've been really busy putting together some good shows and and the last edition of our 24HoursofVinyl.com project. Adding to the madness, we are hosting a big party for the celebration of the 5th anniversary of Music Is My Sanctuary. It will be on July 7th, will be presented by the Montreal Jazz Fest and our guests are a DJ set from Jazzanova and our good friends The Goods from Montreal.
Lexis is celebrating the 5th year of MIMS with a couple gigs in Europe (June 15th : Dubrovnik / 16th: Budva, Montenegro / 18th: Porgorica / 21st & 22nd: Vienna)… Reach if you can!
Tracklist
01. Barrington Levy – Vibes is right (Om Unit Remix)
02. Sweatson Klank – I Can't Explain
03. Onra – After Hours ft. T3
04. Foreign Beggars – Palm of my hand
05. Suff Daddy – Det2bln (feat. Phat Kat & Elzhi)
06. Makers – Don't Challenge Me
07. Q-Tip and TenDJiz – Work It Out
08. Moodymann – Watching You
09. Pal Joey – Santeria Samba Groove
10. Krystale – Time To Go
11. Hackman – Forgotten Notes
12. ? – ?
13. Karizma – ?
14. Status IV – You Ain't Really Down (Jazzanova Remix)
15. Shaun Escoffery – Let It Go (Jazzanova Remix)
16. Mosca – Murderous
17. Kahn – Margeaux
18. Jimmy Edgar – In Deep
19. Clams Casino – I'm God
20. Dj Rashad – On My Way
21. Debruit – ATA
22. Jazz Collective – The Jazz Collective
23. Backroom Bandits – You Don't Know What Love Is
24. Bobby Womack – The Bravest Man in the Universe
25. Oddissee – You Know Who You Are (f. Olivier Daysoul)
Download Link