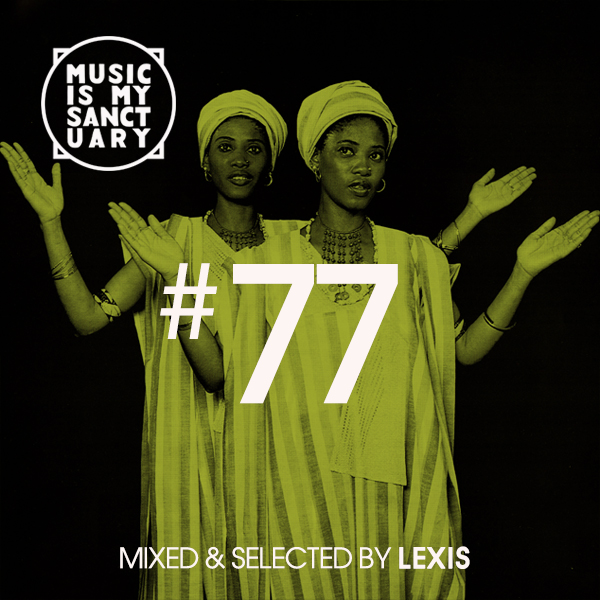 Music Is My Sanctuary – Show #77
Back from Europe on a 3 week tour, feeling tired but very inspired from all the good people i've met and the great music i've brought back.
Big shout out to all of the good people who hosted me and danced to the music. Shout out to Brussels, London, Belgrade, Montenegro, Croatia, Amsterdam and Poland!
Show #77 features a bit of everything including some exclusives! It will be a little bit more uptempo than usual just because I've been in a club every 2-3 days all summer long so I guess i'm just in that mindset…
T R A C K L I S T
Mahagon – Sea of Peace
Alaclair Ensemble – 3 point (Instrumental)
Macross 82-99 – Yung Bae (82 – 99 Edit)
Knxwledge – 8. oh[GTTN$$]
Guilty Simpson – Music
Sampa – Dutch spring
Blended Babies – Make It Work
ScienZe – Gondwana Jungle. feat. Quelle Chris (prod. ShunGu)
Al Johnson & Jean Carn – I'm Back For More (Club Mix)
Flamingosis – Down For The Fifth Time
Yasuko Agawa – L.A. Nights (12″ Version)
Doc Severinsen – Be with you ( Dj Harvey edit )
K-Maxx – Paradise
XLMiddleton – Do Me Like That (feat. Moniquea)
Harvey Sutherland – That's The Fact, Jack
Slum Village – Bonafide
Guilty Simpson – Radiation Burn
J Rocc – Technique Edit
Chaos in the CBD – Observe
ManmadeMusic – ???
The Doors – Awake
??? – ???
??? – ???
??? – ???
Lost N Music Edit – Donna Dirty Ol Vinyl Affair
Tuele Drink On Me (Original Mix)
K15 Bordeaux (Kaidi Taitham Remix)
Ge-Ology – Moon Circuitry (feat. Mark De Clive-Lowe)
LV – Jump And Rech feat. Tigran Hamasyan
Seven Davis Jr – Try Me (I'll Funk You) (Mono/poly Remix)
DJ Spinn & Rashad ft Danny Brown – Dubby
Everything But the Girl Before – Today (LP Version)
Queen – Cool Cat
Jill Scott – Can't Wait
Omar $ – ???
Roy Ayers & Wayne Henderson – For Real
Bemibem – ???
??? – Oh Kalkuta