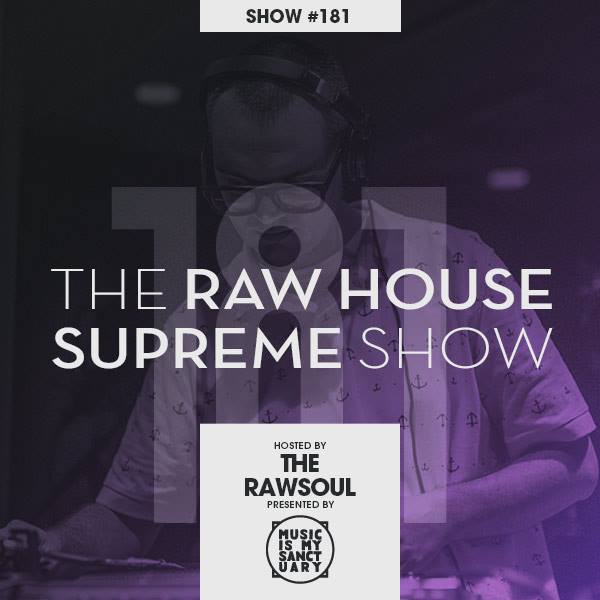 The RAW HOUSE SUPREME Show – #181 Hosted by The Rawsoul
Classics and lost jams galore this time around!
Sounds courtesy of Kings Of Tomorrow, Maurice Fulton, Theo Parrish, Smack, Blaze, Basement Jaxx, Global Communication, Terence Parker, Farley Jackmaster Funk, Ralphi Rosario, Johnny Fiasco, Ali King, Loleatta Holloway, Shazz & St Germain. Play loud!!!
TRACKLIST
1.Sandy Rivera Of Kings Of Tomorrow ft Sabrynaah – Come On
2.Corrina Joseph – Wanna Get Down (When U Get Down)
3.Azymuth – Jazz Carnival
4.Johnny Fiasco – Taurus
5.Ali King – Session 28
6.Eddie & The Eggs – A Cup Of Coffee
7.Made In The U.S.A. – Never Gonna Let You Go
8.Archie Bell & The Drells – Everybody Have A Good Time
9.Glen Underground – Remember The Good Times
10.Mindchime ft Isi Samuel – For Our Culture
11.Shazz & St Germain ft Derek Bays – Muse Q The Music
12.Todd Edwards – Rite Now
13.Kim Cummings – Your Attitude
14.Loleatta Holloway – Can't Let You Go
15.Romanthony ft Eve Angel – Together
16.Blaze – Lovelee Dae
17.Tojami Sessions – In Depth
18.Monie Love – The Power
19.Signall Hill – Release It
20.K-Alexi – Don't Cha Want It?
21.John Rocca – I Want It To Be Real
22.Ralphi Rosario – An Instrumental Need
23.Index 968 – Secret Fantasy
DOWNLOAD LINK
Subscribe to The Raw House Supreme as a podcast on iTunes