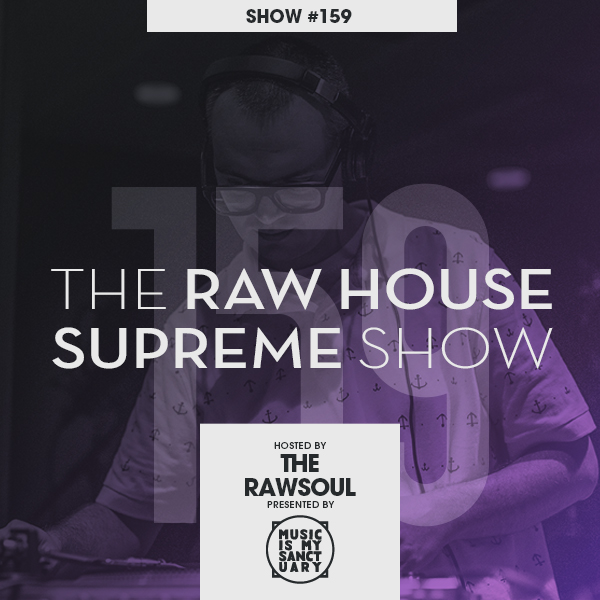 The RAWHOUSE SUPREME – Show #159 (Hosted by The RawSoul)
This week we travel back to different days and times when House music was released on major labels and played on radio, when Marc Anthony (yes THAT Marc Anthony) was singing over "Little" Louie Vega productions.
Lots of classic flavors courtesy of Blaze, Mark Rogers,Terrence Parker, Murk, Kevin Saunderson, Kerri Chandler, Sylvester and Jamaica Girls. Also some newer tracks by Omar S, Theo Parrish, Mathew Johnson and Val G.
TRACKLIST
1.Lisa Lisa & Cult Jam – Let The Beat Hit 'Em
2."Little" Louie Vega & Marc Anthony – Ride On The Rhythm
3.Jovonn – Let It Ride
4.The Jamaica Girls – On The Move
5.E-Dancer – The Move
6.Val G – Headed East
7.Omar S ft Theo Parrish – The Grand Son Of Detroit Techno!
8.Mathew Johnson – She Is He
9.Urban Blues Project Presents Michael Procter – Love Don't Live
10.Mike Dunn Presents Tha House Of Sound – We Kan Never Be Satisfied
11.G-Dubs – The Groove
12.TJR ft Xavier – Just Get Better
13.Kerri Chandler – Thinkin' It's Over
14.Donna de Lory – Think It Over
15.Swing 52 – The Madness Of It All
16.Seven Grand Housing Authority – Love's Got Me High
17.Reggie Hall – Count On It
18.Trak 3 (Underground Dance Party) – The Z'Bar
19.Mark Rogers AKA Hollywood Beyond – Let's Get Together (Create)
20.A Blaze Project ft Hunter Hayes – Why Can't We Live Together
21.Sundiata – Come Together
22.Charisse Arrington – Down With This
23.Kerri "Kaoz" Chandler – Keep Me Inside
24.95 North ft Dave Skinfield – Get Your Mind Together
25.Red Hook Dreams – Your Love
26.BOP To The Trax – Over Trax
27.Sylvester – Over And Over
Download Link