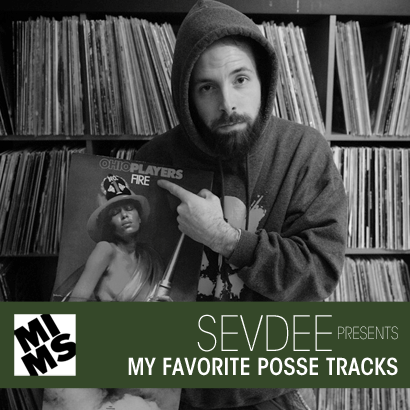 SEVDEE presents "My 7 Favorite Posse Tracks"
When Sevdee, my long time homie and prominent Montreal hip-hop figure, told me he wanted to do one of my MIMS Lists themes based on his favorite posse tracks of all-time I was really up for it! Then 4 months passed and voilà. Finally here are his top 7 picks. By the way, Sevdee is also the co-founder of ArtBeat Montreal, an event which brings together the best beat builders MTL has to offer.
Feel free to let us know if you think we missed anything.
TIED – #7
The Anthem '99
Feat : Sway & Tech, RZA, Tech N9ne, Eminem, Xzibit, Pharoahe Monch, Kool G Rap, Jayo Felony, Chino XL & KRS-One
Album : This or That (1999)
TIED – #7
The Anthem '94
Feat : Nas, Organized Konfusion, Ras Kass, Dred Scott, Shyheim, Chino XL, Saafir, Lauryn Hill
Album : The Wake Up Show Freestyles Vol 2 (1996)
"Although not my favorite, The Anthem 99 had a HUGE impact here. We have to choice but to mention the 94 version, which most didnt even acknowledge before the arrival of Youtube."
---
#6
State vs Kirk Jones
Feat : Sticky Fingaz Feat. Rah Digga, Redman, Canibus, Scarred 4 Life, Lord Superb, Guess Who
Album : Blacktrash: The Autobiography of Kirk Jones (1999), Universal
"This album will make it to my Top 7 best conceptual Hiphop albums ever. I started Building Beats more seriously in 1999, and this was a massive blueprint for album conceptualisation. This song make NO sense if you've never heard the whole record."
---
#5
Buddy (Native Tongue Decision Version)
Feat : De La Soul, Jungle Brothers, Q-Tip, Monie Love & Queen Latifah
Album : Buddy 12" (1989)
"This was a tough one, between Buddy, Scenario (ATCQ) and Saturdays (De La Soul). I think this was Native Tongues at their finest."
#4
Flipmode Squad Meets Def Squad
Feat : Busta Rhymes, Jamal, Redman, Keith Murray, Rampage The Last Boy Scout & Lord Have Mercy
Album : The Coming (1996), Elektra
"Hands down my favorite Busta album. A true "POSSE" cut, by definition."
---
#3
1, 2 Pass it
Feat : D&D Allstars – Mad Lion, Doug E Fresh, KRS-One, Fat Joe, Smiff-N-Wessun and Jeru The Damaja
Album : D&D Project (1995), Arista
"It simply didnt get any better. D&D (now HeadQCourterz Studio) played an important part in NY Hiphop in the 90s. The album is definitely not up-to-par with the single; but thats a tough act to follow, right there."
---
#2
The Points
Feat : Big Mike, Biggie Smalls, Bone Thugs-n-Harmony, Buckshot, Busta Rhymes, Coolio, Digable Planets, Heltah Skeltah, Ill Al Skratch, Jamal, Menace Clan & Redman
Album : Panther Soundtrack (1995) Mercury
"I'd like to hear the mix engineer's story behind this one. Im pretty confident it ends with : "…so after 6 months of mixing, we just said #%?# it and released it as is."
---
#1
Roll Wit Da Flava
Feat : Treach, Chip Fu, Freddie Foxxx, Queen Latifah, Heavy D, D. Nice, Dres
Album : Roll Wit Da Flava (1992) Sony BMG
"You posse cut can't go wrong if it starts off with Treach (Naughty By Nature). This song got me open like the toy store on Boxing Day. And if you dont know what "got me open" means, then you won't get this next one either. I'M SWAYZE"