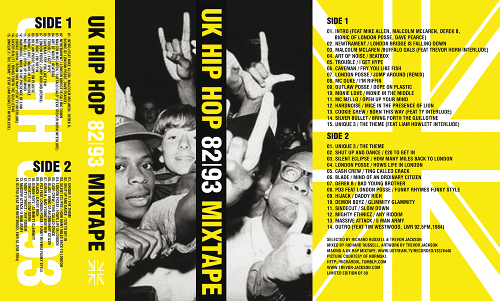 UK Hip Hop 82/93 tape by Richard Russell & Trevor Jackson
via FACTMAG.com: Vintage homegrown hip-hop doesn't often get the attention – or, indeed, the kudos – it frequently deserves.
In order to redress the balance, XL boss Richard Russell (most recently heard behind the boards on Bobby Womack's The Bravest Man In The Universe) has teamed up with associate Trevor Jackson to curate a wide-ranging mix of the stuff. The set covers a range of hip-hop released between 1982 and 1993. The UK Hip Hop 82/93 Mixtape is a salutary reminder what a diverse (not to mention downright odd) scene this was: Malcolm Mclaren/Buffalo Gals and Art Of Noise nudge up against Blade and Demon Boyz. Massive Attack, Blade and Derek B all feature.
Russell gave us the lowdown on the project: "I met an aspiring DJ and Graphic Designer called Trevor Jackson when we worked in Loppylugs Record Shop in Edgware together as teenagers. We bonded over a love of rap music, particularly anything British we could get our hands on. To celebrate that moment, a few months ago Trevor and I chose the records to go on an Eighties UK Rap mixtape. We did this live on uStream.We went into the early 90′s also as that period was especially good for British rap, leading into hardcore and rave. Since then I mixed everything, Trevor did the cassette inlay artwork, and we made a handful of tapes".
You can watch said Ustream recording here. Only fifty copies of the tape are in existence, some of which went on sale at last weekend's wonderful Independent Label Market.
FACT have managed to secure five copies to give away. If you'd like to grab yourself one of the super-limited tapes, send an email through to [email protected], including your name and the words 'UK Hip Hop 82/93 Mixtape' in the title field. Best of luck!
sdjaslkjsas