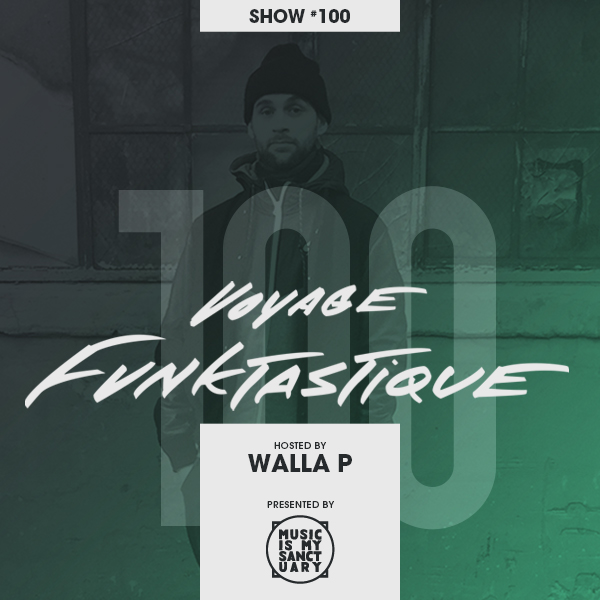 Voyage Funktastique – Show #100 (Hosted by Walla P)
For this special 2 hour edition, I wanted to pay homage to the most memorable songs since the beginning of the show, some of the most influential Modern Funk tracks that shaped the movement.
I want to thank all the artists, Dj's, labels, architects, and of course, all the listeners and supporters that makes this adventure in the land of Funk so overwhelming. Stay Funky!!!
TRACKLIST
Temu – Voyage Funktastique Intro
Temu – Boogaloo Blues
Reggie B – Do You Wanna Ride feat. B. Bravo, Salva & C-Note
Snoopzilla & Dam-Funk – Wingz
Jolly Mare – Tutto bene
Par-le – Kamden Town
DOC Mastermind – She Treats Me Right (Feat. Amin Payne)
K-Maxx – Reachin'(Paradise) 'Draft Version'
Wasted Nights – Hold Tight
Temu – Funk Over Egypt
Kenlo Craqnuques – Fins Dsemaine
Midnight Runners- Micro Boogie Island feat. Azumi
Freekwency – Flip The Coin
Sven Atterton – Starting Again
Potatohead People – Luv Ya feat. Amalia
Antoine Rocky Horror – Machine Gun Boogie
Proh Mic – Right On Time
Throwback Zack – Messages From The Stars
Synthesiz – Serious Funk
Fisrt Touch – Sure Feels Good To Me
Zackey Force Funk, XL Middleton & Eddie Funkster – Press Play
Turquoise Summers – The Lonliest Groove
Psychic Mirrors – Charlene
Diamond Ortiz – Pop It
LA-NO – Synthese
East Liberty Quarters – Holiday
Brian Ellis – Love is Featuring Egyptian Lover
Hidden Groove – Heatin' Up
Buscrates 16-Bit Ensemble – On My Own (ft. Laura Benack)
E. Live – Do Me Like That feat Chesta Blake
Amin Payne – Wake And Fake (Feat. Kaye)
Frankfurt Funk – Ooh Wee Babe (RMX)
Multifunkshun – Paye Ton Son
Pomo – Cherry Funk Ft. Kaytranada
Dogg Master – Let Your Body Move
Dabeull – Voyage Funktastique (Jingle)
Sasac – Lonny Zone
Onra – My Comet
shaw coop – Jean Spag
Opolopo – Step Into The Light
Temu – Tales From The Mothership (Ode to Danny Elfman)
Throwback Zack – Voyage Funktastique Theme
Download (Save As:)