Mix CD, T-shirt and 7-inch
Brought to you by 101 Apparel
"Symbiosis" is when two deejays work separately on a mix and end up creating the same atmosphere. 80 minutes of music inspired by our environment, backgrounds and our friends.
Both parts of "Symbiosis" have been recorded in one-take at Lefto's place on a bright sunday afternoon and contains 80 minutes of rare gems and upcoming unreleased music inspired by our environment, backgrounds, community and friends. On top of the mix we sent in our own productions and pressed it on a 45, just for the love of sharing what we're doing.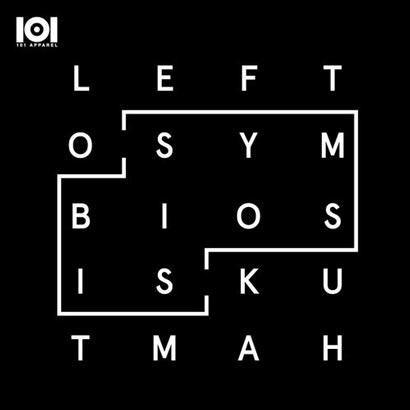 Lefto: As one the most important tastemakers Europe has to offer, and affiliated with Brownswood Recordings, Blue Note, !K7 Records, Jazzy Sport in Japan and Do-Over parties, this bearded early riser is consistently a couple steps ahead of your average early adopter. He doesn't wait for the next thing to land on his lap, he actively seeks it out, therefore just take a peek at his playlists on Belgium's foremost national radio station Studio Brussel which received compliments from Rough Trade Shops, Gilles Peterson and featured on MTV Hive. However, don't assume that he's only working futuristic angles – no sir. Firmly rooted in jazz and hip hop, he sharpened his digging sensibility working at the now legendary Music Mania record store in hometown Brussels. His passion for jazz resulted in a remix album for Blue Note which was well received by the community. LeFtO is forever moving forwards but always got an ear in the past. Famed for his gloriously eclectic dj sets, he switches effortlessly between hip hop, funk breaks, neck-snapping beats, future bass, south-american influences, bruk riddims and some wild african rhythms. In his country, which voted him 5th best DJ of all-time, he's not only a deejay and producer but also curates his own stage at the Dour Festival and his successful awarded nights in Gent, Belgium. World renowned, LeFtO regularly blesses sound systems from Tokyo to Seoul , Singapore to New York, Kazakhstan to Germany, San Francisco and Los Angeles. The travel resulted in a compilation on Gilles Peterson's Brownswood Recordings with partner in crime DJ Simbad and another one for Universal.
Kutmah: When talking about Kutmah, it's tempting to use an epithet such as "the best DJ you've never heard", or "best kept secret". But we like to think enough people know about him now to make that unnecessary. Justin McNulty was born in Brighton, England to an Egyptian mother and Scottish father. He moved to the United States when he was 12 years old and grew up in Hollywood, California. It was here where Justin became Kutmah and ultimately made a name for himself as a talented underground artist & DJ. Kutmah became a member of LA's dublab collective and then in 2004 he founded the celebrated clubnight 'Sketchbook' which forged fundamental roots of the now-infamous LA beat scene. As an associate of Flying Lotus's Brainfeeder collective, his mixtures from his time spent on the West Coast are legendary amongst those that know, and he's also released several of his own original records – even though he's predominantly a DJ, with foundations in hip-hop and a record collection that spans far beyond the genre. Since his time in LA, Kutmah has relocated back to England and currently resides in London. He now holds down a show on NTS Radio, and has furthered…