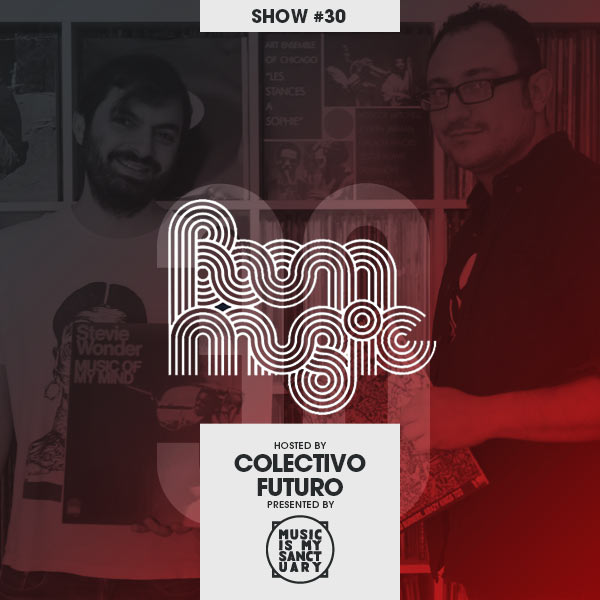 BOOM MUSIC – Show #30 (Hosted by Colectivo Futuro)
Back in London for our regular Boom Music broadcast and joined by homie, DJ and producer Hector Plimmer.
Fresh from releasing his debut album "Sunshine" via Albert's Favourites, which thanks to popular demand is now being pressed on vinyl, Hector shared some current heat and a few exclusives, while also chatting about his production and graphic design work. In between, your regular hosts Oliver and Miguel play recent finds and revisit old favourites by the likes of Flying Machines, Milton Nascimento, Eric Lau, Giuliano Sorgini, Eddie Palmieri, and many more.
TRACKLIST
01 Hector Plimmer – Shiver [Albert's Favourites]
02 Moresounds – Positive Yourself [Cosmic Bridge]
03 E.A.P.D. – Hyperspace Cadillac [Dr. Banana]
04 Flying Machines – Galactic Joint [Sounds Familiar / Blend It!]
05 Giuliano Sorgini – Ultima Caccia [Four Flies Records]
06 Stefano Torossi – Sweet-Beat [Schema Records]
07 Stelvio Cipriani – Attraverso La Frontiera [AMS Records]
08 EABS – Waltzing Beyond [Astigmatic Records]
09 Eric Lau – It's Rainy [First Word Records]
10 Eric Lau – Lau's Lament [First Word Records]
11 Daniel Casimir – Really For Always [Jazz Re:freshed]
12 The Bird Curtis Quintet – The Butter Tree [Jazzaggression Records]
13 Get The Blessing – Quiet [Naim Jazz]
14 Clutchy Hopkins & Fat Albert Einstein – Double Dribble [Aural Tradition Records]
15 Les Ambassadeurs – Fatema [Mr. Bongo]
16 Hector Plimmer – Bossa B (Live with Soothsayers & Wu-lu) [Unreleased]
17 AFTA-1 – Searching [Pronounced.Love / Varied Frequencies]
18 Henry Wu – R6 Interlude [Eglo Records]
19 Hector Plimmer – Kalimba 2 [Albert's Favourites]
20 William Florelle – Two & Three [WotNot Music]
21 Kaidi Tatham – Changing Times [First Word Records]
22 Kerri Chandler – Rain [Nervous Records]
23 Afriquoi – Starship (Hector Plimmer Remix) [Wormfood]
24 Boogie Arkestra – Who Are We? [Self Released]
25 Anno Luz – Por Quê [Music From Memory]
26 Milton Nascimento – Sentinela [Ariola]
27 Nana Vasconcelos – Paletó [Antilles]
28 Mongo Santamaria – Druma Kuyi [Vaya Records]
29 Los Amigos Invisibles – Gerundio / Ojos Cerrando [Long Lost Brother Records]
30 Marc Cary – Indigenous People [Ibadan Recordings]
32 Eddie Palmieri – Spirit of Love [Epic]
DOWNLOAD LINK