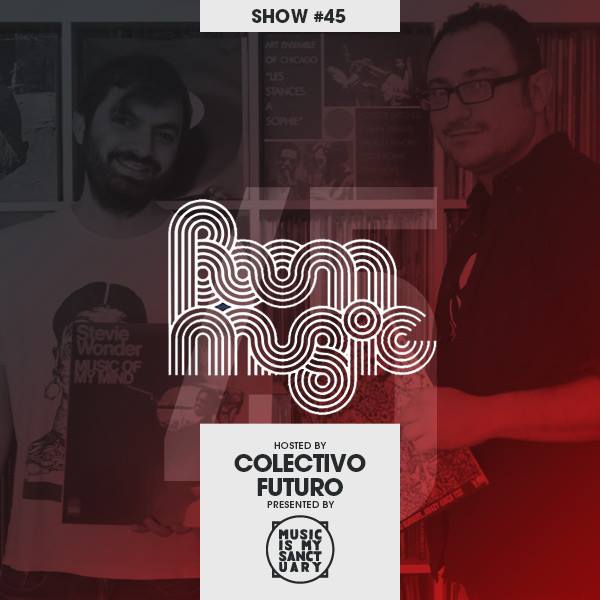 BOOM MUSIC – Show #45 (Hosted by Colectivo Futuro)
After a brief break, Colectivo Futuro are back with the first new Boom Music of the summer!
With so much new music to share it was a daunting task narrowing it down, whilst trying to fit in some rediscoveries and a classic or two. There's a couple of tracks from Emanative's incredible new LP "Earth", a favourite cut from the "Woven Entity" LP, something from Makaya McCraven's new mixtape – recorded by the Chicago drummer in London's TRC with the cream of local talent, remixed live by Darkhouse Family, Ben Lamar Gay, Quiet Dawn, et al, and all mixed & edited again by Makaya into the perfect tape/long-mix format. Other highlights include Jonny Drop's excellent new LP on Albert's Favourites, Hector Plimmer's Bruk leaning mix for Yazz Ahmed, the Scorpios – one of four excellent new 45s on the Afro 7 label, Momo Wandel Soumah – finally on vinyl thanks to Buda Musique, Nat Birchall meets Al Breadwinner, Thabang Tabane, and of course, the so-called 'lost' Coltrane recording. A couple of treasures from recent hunts abroad are thrown in for good measure and Miguel rounds off the show with a heavy dose of Venezuelan salsa. Enjoy!
TRACKLIST
Emanative – Sandhyavandanam [Jazzman]
Woven Entity – Kudu [Pure Vinyl]
Makaya McCraven, Joe Armon-Jones, Theon Cross & Nubya Garcia – The Bounce! [International Anthem]
Hugo Fattoruso – Llamada Insólita [Far Out Recordings]
Jonny Drop – Think it Over (feat. Shea Soul) [Albert's Favourites]
Yazz Ahmed – The Lost Pearl (Hector Plimmer Remix) [Naim Records]
Jimi Tenor – Quantum Connection [Philophon]
Emanative – Minutes To Midnight for This Planet [Jazzman]
Chico Science – Coco Dub (afrociberdelia) [Mr Bongo]
Barbatuques – Baiana [Selva Discos]
Les Lauriers Roses – Cassé Co [Musique-music]
Momo Wandel Soumah – Toko [Buda Musique]
Thabang Tabane – Nyanda Yeni [Mushroom Hour]
The Scorpios – Samha [Afro 7]
John Coltrane – Nature Boy [Impulse!]
Lloyd Miller & The Heliocentrics – Nava [Strut]
Idris Ackamoor & The Pyramids – Land of Ra [Strut]
Nat Birchall Meets Al Breadwinner – Freedom Skank [Tradition Disc]
The Light Of Saba – Thy Kingdom Come [Kingston Connection]
Havana Cultura -Blues De Mi Barrio (ft. Yasek Manzano) [Brownswood]
Meridian Brothers – Entra El Ritmo Antillano [Soundway Records]
Cornaire Salifou Michel et l'Orchestre El Rego & Ses Commandos – Gangnidodo [Analog Africa]
Los Papacitos – Jazzy [Soundway Records]
Federico Y Su Combo Latino – El Agua Limpia Todo [Sonus]
Ray Perez Y Los Kenya – Santa Elena [Pyraphon]
Alfredo Linares – Friends [Industria Nacional Del Sonido]
Mango – Mango a la Freddy [YVKCT]
DOWNLOAD LINK
Listen & Subscribe on iTunes