Contest: Tickets for Mark Farina, Fred Everything & Lexis in Montreal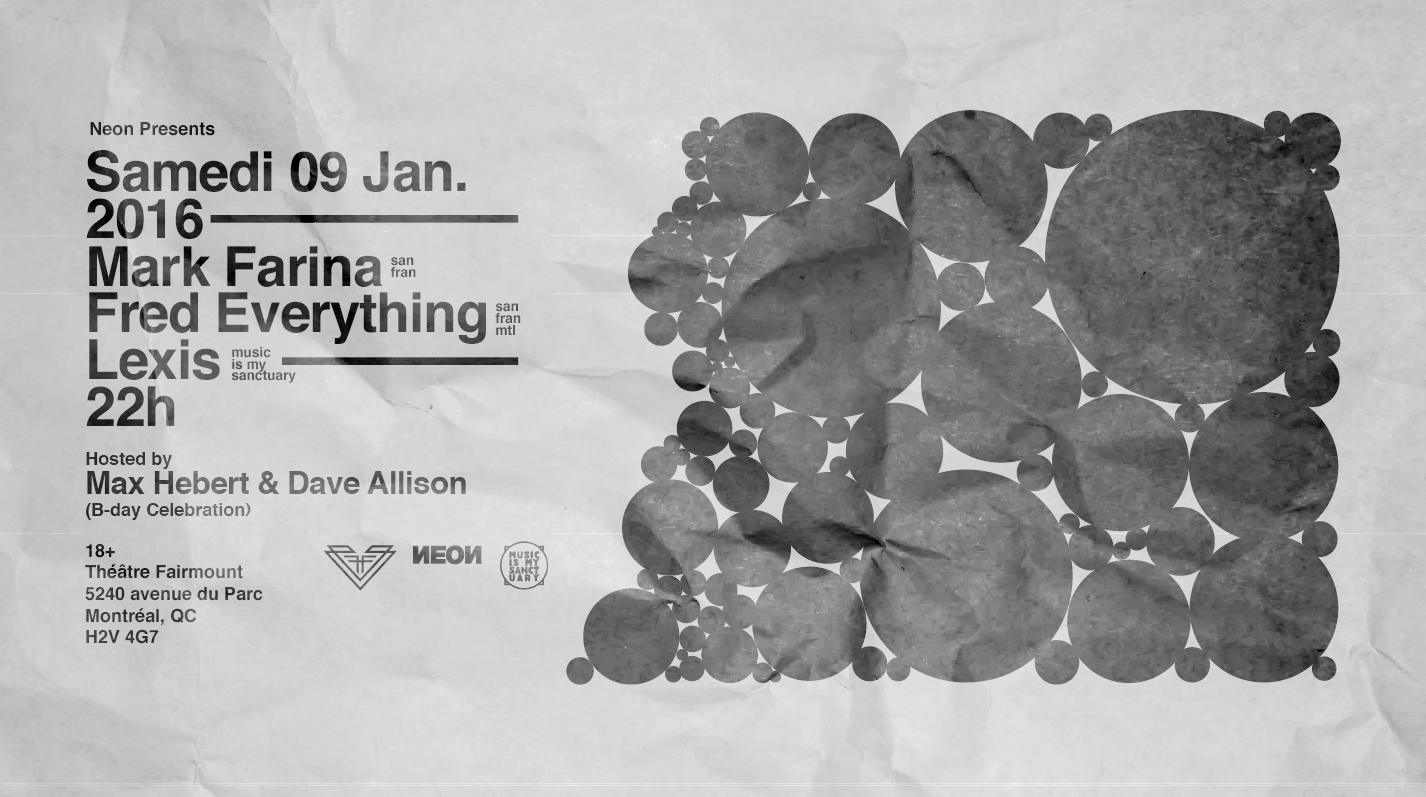 I Love Neon presents:
Mark Farina
https://soundcloud.com/djmarkfarina
+ Fred Everything
https://soundcloud.com/fredeverything
+ Lexis
musicismysanctuary.com
::: Hosted by :::
Max Hebert & Dave Allison
(B-day Celebration)
Contest: W

in a Pair of Tickets for Mark Farina, Fred Everything & Lexis

(Ends at midnight January 8th, 2016)
To Participate
Step 1: Register
Simply enter your email:
[ABss_subscribe_form inline_form="1″ button_text="Register" no_name="1″ name_placeholder="Name" email_placeholder="Email"]

______________________
Event Page
TICKETS/BILLETS: $20+sv
http://bit.ly/1Q0Jw6V
In stores:
Atom Heart – 364 Sherbrooke E.
Cheap Thrills – 2044 Metcalfe
Phonopolis – 207 Bernard O.
18+
______________________
Find us at:
http://iloveneon.ca/
Mark Farina: Modern day record minstrel, Mark Farina, has thrilled crowds globally, entertaining over 1 million fans per year. As one of the most ubiquitous DJs in Dance Music, Farina's known for both his unique style of mixing Jazz, Downtempo and House Music as well as being the creator of Mushroom Jazz: West Coast jazzy, organic productions combined with East Coast Hip-Hop, Urban beats.
Drawing from his vibrant youth, which included being a trumpet player in marching band, a drummer in a nu wave cover band and a guest DJ, Friday nights on WNUR (Chicago), Mark found his passion for the luscious world of vinyl, turntables and nightclubs. At 16, Farina began his DJ career as a resident at Chicago's underage mecca, Medusa's. At the same time Mark joined forces with emerging DJs Derrick Carter and Chris Nazuka then moved into a loft space called Rednail. Rednail became infamous not only for raucous parties but also as the home to the trio's first productions under the moniker, Symbols & Instruments. Their release,"MOOD," sold 35,000 copies in the US & UK and is credited as "the first ambient house track."
Farina relocated to San Francisco in 1992. Fans embraced Mark's downtempo style and he started co-hosting a weekly Mushroom Jazz club night in ʻ93. In 3 short years, Farina established a fanatical, cult-like following for his Mushroom Jazz sound and in 1996, OM Records released the first mixed comp CD, simply titled, Mushroom Jazz. Since then, Mark has released 7 volumes of Mushroom Jazz with 2013 marking the 20th anniversary of the series. Other notable releases include OM's Seasons, San Francisco Sessions Vol. 1, Connect, House of Om, Live in Tokyo, and Fabric 40.
When Mark's not touring the world, headlining festivals including Harbourlife (Sydney), Southport Weekender (UK), DEMF (Detroit), Coachella (CA) and T in the Park (Scotland), you're likely to find him in his studio working on new releases or podcasts for his label, Great Lakes Audio. On days off he'll be cruising his '68 Toronado with his son, Dylan (aka "little peanut"), and his Yorkie, Pumpkin. Voted as one of the top DJ's in the world by URB, MUZIK and BPM magazines, Mark Farina's taste making skills continue to turn the heads of seasoned Dance Music veterans as well as newcomers to the scene.
Fred Everything: Montreal transplant, San Francisco based Fred Everything has been a driving force in the House music world for over twenty years with a discography of over 200 releases on some of the best reputed labels including 2020 Vision, Om, Freerange, Tsuba, Get Physical, Local Talk, Drumpoet Community, Buzzin Fly, and of course his own Lazy Days Recordings, which he has been running for ten years.
A staple in the Deep House genre long before its rise in popularity, Fred is known for his versatility and tight production, shining as much when working with full vocals as with stripped down dubs. His collaborations and remixes have included: N'Dea Davenport from The Brand New Heavies, Meshell Ndegeocello, Curtis Mayfield, Tortured Soul, Atjazz, Corrine Bailey Rae and Jazzanova on labels such as Defected, Compost, Classic, Strictly Rhythm, Sonar Kollektiv and countless others.
As an in demand DJ, Fred continues to travel the world relentlessly, gracing the decks of some of the best clubs and festivals from London to Cape Town, Sydney to Tokyo, Ibiza to Moscow. Equally at home on a big stage or an intimate venue, Fred Everything's sets always rise to the occasion: precise and energetic while always keeping that element of surprise.
Lexis: one of the most versatile DJ's out there and an absolute music research junkie – always digging for future classics & forgotten treasures. He founded Music Is My Sanctuary in 2007 which has now grow into one of the best independent websites for lovers of next level music from all over the world. He also created the 24 Hours Of Vinyl project, a worldwide non-profit event, which has travelled to Paris, San Francisco, Vancouver and more.
His monthly radio show and mixes have gotten acclaim from the likes of Ninja Tune, Mixcloud (which voted him top 10 of 2014), OkayPlayer, Vice, EgoTrip and Radio Nova. He also collaborates with french producer Onra on a mix and event series called "Throw Em'Up" devoted to mid 90's R&B rarities.
In the past few years Lexis has shared worldwide stages and festivals with lots of artists from very different scenes: Theo Parrish, Gilles Peterson, DJ EZ, Floating Points, Kaytranada, Dam-Funk, Quantic and more. He also hosts frequent Music Is My Sanctuary events in Montreal including a monthly night at Bleury Vinyl Bar.