CLOSED: Tom Noble & Mystic Pleasure "Back Door" 12″ (Limited Promo)
Superior Elevation 1005 PROMO ONLY (very limited)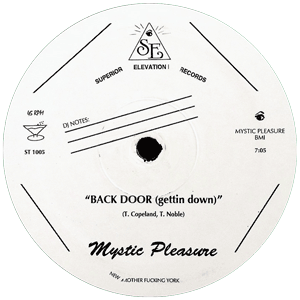 We are happy to giveaway one copy of this absolute disco dancefloor burner!
A very limited press (500) on LA's Superior Elevation label, their fifth release and first in two years. "Back Door" is a collaboration between digger extraordinaire Tom Noble and the group known as Mystic Pleasure who met on the digging circuit. Tom plays ARP on the record and helped out with the arrangements.
"Back Door" – Audio Preview
The record is already doing very well amongst the A-list soulful / rare groove DJ's and of course, we love it too!
How to Participate?
Step 1: Register
Simply enter your email:
[ABss_subscribe_form inline_form="1″ button_text="Register" no_name="1″ name_placeholder="Name" email_placeholder="Email"]
And voilà! Winner will be announced on Friday, Nov 9th
---