via RBMA:
"When it comes to long-awaited, it doesn't get much more long-awaited than new music from Michael D'Angelo Archer. Think Chinese Democracy-level long-awaited. Detox-level long-awaited, even. So, without further ado: Black Messiah is coming, and we have an exclusive track from the album for you – the full, official studio version of 'Sugah Daddy', a song that soul music's ever-elusive prodigal son and his new band, The Vanguard, first played live on their celebrated 2012 tour. Welcome back, D."
Update: The record is available now! This is not a drill people!
Buy Link – Itunes
Listen to "Sugah Daddy" the first teaser from the record. (Co-Written by Q-Tip)
Black Messiah Tracklisting
1. "Ain't That Easy"
2. "1000 Deaths"
3. "The Charade"
4. "Sugah Daddy"
5. "Really Love"
6. "Back In The Future (Part I)
7. "Till It's Done (Tutu)"
8. "Prayer"
9. "Betray My Heart"
10. "The Door"
11. "Back In The Future (Part II)
12. "Another Life"
– I need this album to fck my head up musically, Dilla's gone so D'angelo's the only one left who can #BlackMessiah #midnight

— Black Milk (@black_milk) December 15, 2014
And it's the PERFECT Album for the mind state of the people right now…#BlackMessiah

— 9th Wonder (@9thWonderMusic) December 15, 2014
"This album is like the Apocalypse Now of black music: its beautiful, its ugly, its truth, its lies." @questlove on the new @TheDangelo

— RedBullMusicAcademy (@RBMA) December 14, 2014
I had the pleasure of co writing sugah daddy w @TheDangelo glad y'all like

— QTip (@QtipTheAbstract) December 14, 2014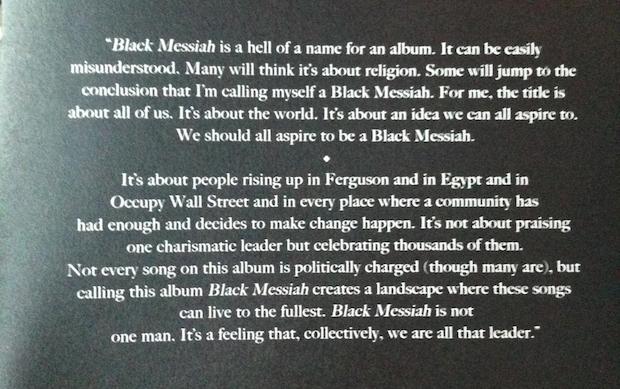 Another great appetizer for the upcoming record. D'Angelo's talk on the great RBMA series.