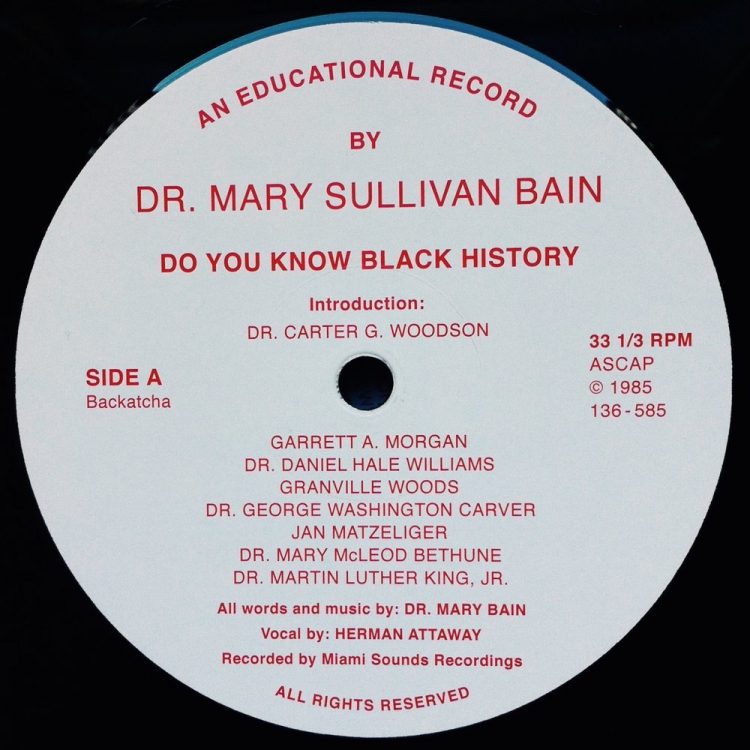 Dr. Mary Sullivan Bain "Do You Know Black History" (1985, Backatcha Records)
via Backatcha: A teacher by trade, Dr Mary Sullivan Bain recorded her musical works to be used as an educational and motivational tool in the Miami-Dade public school system she taught in.
Dr Bain's daughter Pruchelle explains, "She found a lot of children didn't know anything about black history and the achievements made by the black race so she wanted to highlight these legacies. She actually recorded an earlier version of the song called 'Moments In Black History' in about 1984 and that would be played on WEDR FM every year during black history month."
"That song came to her in a dream, that's how it started" recalls Pruchelle about the record, "I remember as a child seeing our mother's writings at the side of the bed. She would write what she had dreamt about and different scenarios for the song developed from that".
The single was recorded at Miami Sound Recordings, South Florida and released in small numbers as a self-published 12" pressing for educational purposes. Copies of 'Do You Know Black History' did not circulate much further than Florida's public school libraries and the vaults of some local radio stations when it was released in 1985.
Produced with no label constraints, Mary worked alongside her friend and vocalist Herman Attaway. She would give him the words and the melody and together they translated her ideas into song. If one wanted to categorize it they'd have to put a copy in a few different boxes … 808's, bass synths, deep chords, live percussion and effects dubbed into the mix. The production leans towards the electronic DIY framework that informed the local sound on the south side. Whilst the categories are blurred what's clear is that the musicians who made this thought outside of the box.
Mary grew up in Savannah, Georgia in the 1930's, a world where segregation had the force of law and discrimination pervaded nearly every aspect of life. One can assume that overcoming crippling obstacles was nothing new. For young Mary Bain, education was the key to personal freedom.
Graduating from Savannah State University in 1954, she got married, became the mother of four children, gained a masters degree and worked locally as an English teacher. In the mid-1960s, Mary moved her family to Miami, Florida and continued to teach and study. She earned another degree and was awarded a doctorate in elementary education.
Her label Trek-Sound followed her debut release with various titles on similar themes. "She made lots of tapes for her classes like 'Tell Me Black History', 'You Got To Love Yourself', and 'A Proud Black Man'" says Pruchelle. "like 'ABC's & 123's'… that one is still used in school programmes today."
Likewise, this 12″ reissue highlight's Dr. Mary Sullivan Bain's legacy both musically and as an educator, that her progressive school of thought continues to surpass the hands of time to a worldwide audience via Backatcha.