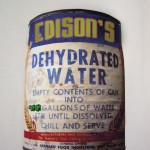 Written by : Max Robin
It's quite possible that you might not know the instrumental beat music of California's Edison. Partly because "Edison" is not a particularly useful internet research word and there are a couple of music acts sharing the name of the famous American inventor. All that could change for Edison, the beatmaker, because he just released a new free EP (thanks to 900bats).
It's the same kind of sound that we use to hear from him here (a mix of hiphop beats and electronic wizardry), but this time he sampled old horror movies to do his thing. That brings a particular ambiance to those beats.
A few words form the man himself: "I guess the only thing to say about it… is it was all made this week… and each beat has a snippet of random old horror radio broadcasts… sting nuts!"
Edison - One Hand Palm Down Rocking Back and Forth