via Light In The Attic: Erasmo Carlos has no counterpart in the universe of Anglophone pop music that could begin to hint at his relevance, popularity and his complex relationship with the only Brazilian pop star more universally recognized than himself, Roberto Carlos.
He may be a beloved pop star and household name in Brazil, but hardly because of the music found on the three albums reissued by Light In The Attic. While in retrospect they can be appreciated as some of his most creative, consistent and personal albums, they were also some of the least commercially successful and under-appreciated of his long career, at least until recently. Embracing the artistic freedom of the global counterculture of the late sixties and early seventies, over the course of these three albums Erasmo evolved from his bubblegum beginnings into a sophisticated seventies singer-songwriter.
Erasmo Carlos E Os Tremendões (1970), Carlos, ERASMO (1971), and Sonhos E Memórias 1941-1972 (1972) collectively find this maturing teeny-bopper delivering a mix of world class psychedelic Rock, traditional Rock 'N' Roll, Soul, Funk, Folk, Bossa Nova, and Samba-Rock to an unsuspecting Brazilian audience.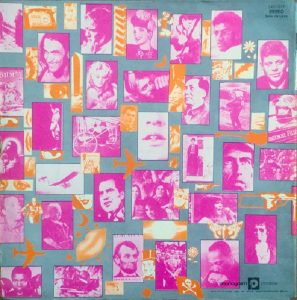 "Sonhos E Memórias (1941-1972)" is truly singular within Brazilian pop fusing rock, soul, jazz and singer-songwriter styles. It's simultaneously rootsy, funky, modern and nostalgic. The lyrics are highly personal, searching for deeper meaning with lots of flower power imagery and language, while the music is tight, highly rhythmic, melodic and restrained in its delivery and effortless groove. Built around the future fusion trio Azymuth with keyboardist José Roberto Bertrami, drummer Ivan Conti aka "Mamão" and bassist Alex Malheiros, a majority of the album's tunes make excellent use of this trio's telepathic tightness, subtle funkiness, and melodic mastery. The album dabbles with a few different styles and rhythms, all telling Erasmo's musical story be it Bossa Nova, Roots Rock, Hard Rock, ballads, and soulful grooves, but a certain sonic frequency or tempo alongside the autobiographical elements unite this masterwork.
Purchase Album