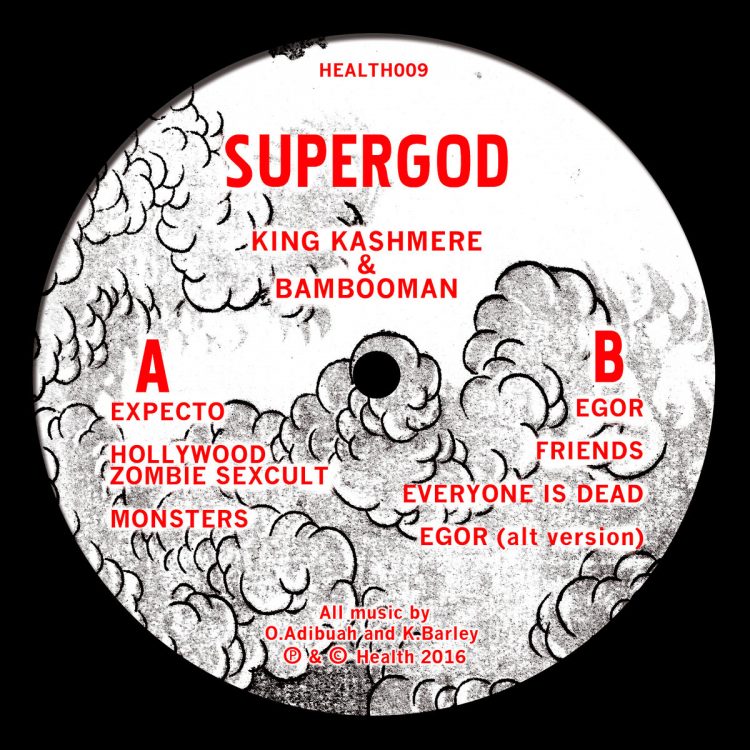 CLOSED Exclusive Premiere & Contest: SUPERGOD "Expecto"
SUPERGOD is the brand new project from legendary UK MC King Kashmere (Strange U) and Avant-beat producer Bambooman (Accidental).
Their self-titled EP drops on the 3rd of March and will be available on wax and digital via Bambooman's own Health imprint. Although the two have crossed paths over the years, this is their first fully formed output together, consisting of 6 tracks that have steadily materialized and naturally evolved into a truly unique colliding of worlds.
The record takes a familiar format of 'producer and MC' and proceeds to twist, fragment and transport it into a new dimension of sonic exploration, whilst retaining a sharp tongue for current social commentary. This is no better articulated than in the opening track "Expecto" in which Bambooman navigates us through audible portals and wormholes of unknown futures, made from alien textures, wonky structures and grey matter grooves, whilst King Kashmere acts as our metamorphic tour guide, casting spells of godly provocation that reflect on our doomed society and its impending apocalypse.
Contest: Win a Vinyl Copy of King Kashmere & Bambooman "SUPERGOD"
(Ends on February 1, 2017)

Step 1: Register
Simply enter your email:
[ABss_subscribe_form inline_form="1″ button_text="Register" no_name="1″ name_placeholder="Name" email_placeholder="Email"]
* Important: If you are having a problem with entering your email please leave it in the comment box below and we will make sure to add it to the contest *
Step 2: Follow us
Like us on Facebook, or follow us on Twitter
(Can't hurt your chances!)
(Winners will be announced and notified on February, 1)
Purchase
Artists & Label: