Following the release of her critically-acclaimed trilogy "Meditations I-II-III", FOXTROTT announces a new chapter with "The Motion/Looking For Your Love".
The pair of songs is the first of a new series of independently-released diptychs to be rolled out over the course of the year.
FOXTROTT throws away the rulebook and wants to take us along on her journey. "I love the short form of the diptych in music, where one piece resonates with the other, in a dialogue. It's a mini-universe of its own. After a few years navigating the music industry with its ups and downs, I wanted to reconnect with spontaneity, ease and the joy of sharing music. By moving away from more rigid structures, I feel a renewed enthusiasm. Honestly, I feel like I am just getting started." The two pieces are entirely written, interpreted and produced by FOXTROTT, with contributions by OURI on cello and harp.
Stream / Save / Support
About FOXTROTT
MH Delorme, also known as FOXTROTT, is a producer, vocalist and multi-instrumentalist born and raised in Montreal. Her genre-defying, unique experimental pop has been making heads turn since the release of her first EP "Shields" in 2013. With her Polaris Music Prize nominated LP "A Taller Us" (2015) and her trilogy "Meditations I-II-III" (2018), both released on esteemed UK imprint One Little Independent Records, Delorme has worked on building a musical universe of her own, pairing intricate, raw yet elegant productions with a strong sense of melody and commanding, soulful vocals. Her music has garnered support from the likes of the BBC 1 & BBC 6 (Lauren Laverne, Annie Mac, Jamz Supernova, Don Letts and more), international press (I.D, The Fader, Line of Best Fit, Nowness, etc) and has taken her to perform in London, New York, Paris, Berlin, Tokyo and beyond.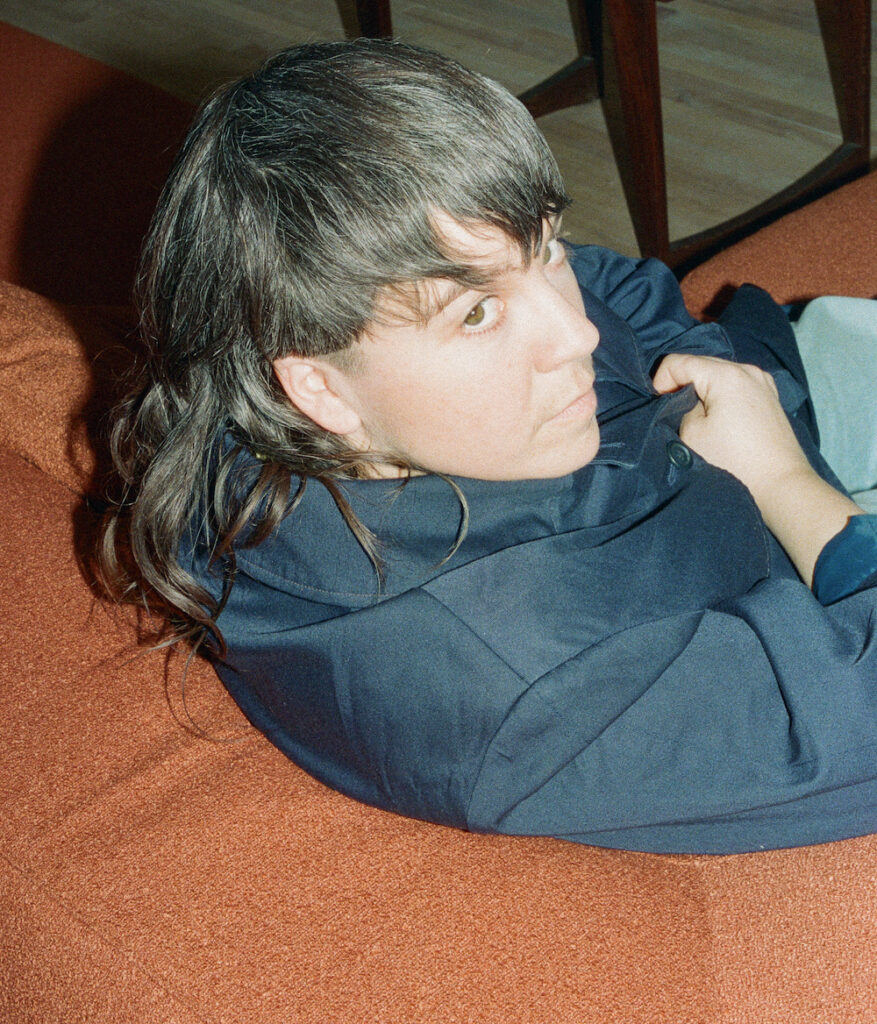 She has also worked with Redbull Music Academy as a studio mentor, and over the last few years, has applied her skills as a film composer. Scoring multiple short and feature films, she recently won "Best Original Music" at the Canadian Screen Award for her work on "Sugar Daddy" (Dir. Wendy Morgan, 2021).
Throughout her releases and in her work as a film composer, producer and collaborator (Ouri, Jean-Michel Blais, Cadenza, Pierre kwenders and more), FOXTROTT flows effortlessly through different musical worlds without ever losing her distinct signature, at once accessible and deeply insular. The answer seems to lie in the way she relates to music: "I try to forget about it all, I aim to hear something I haven't quite heard before. I am not really interested in copying codes. My relationship with music is inside out rather than outside in."
---
FOXTROTT amorce un nouveau chapitre avec « The Motion/Looking For Your Love », faisant suite à sa trilogie « Meditations I-II-III », encensée par la critique.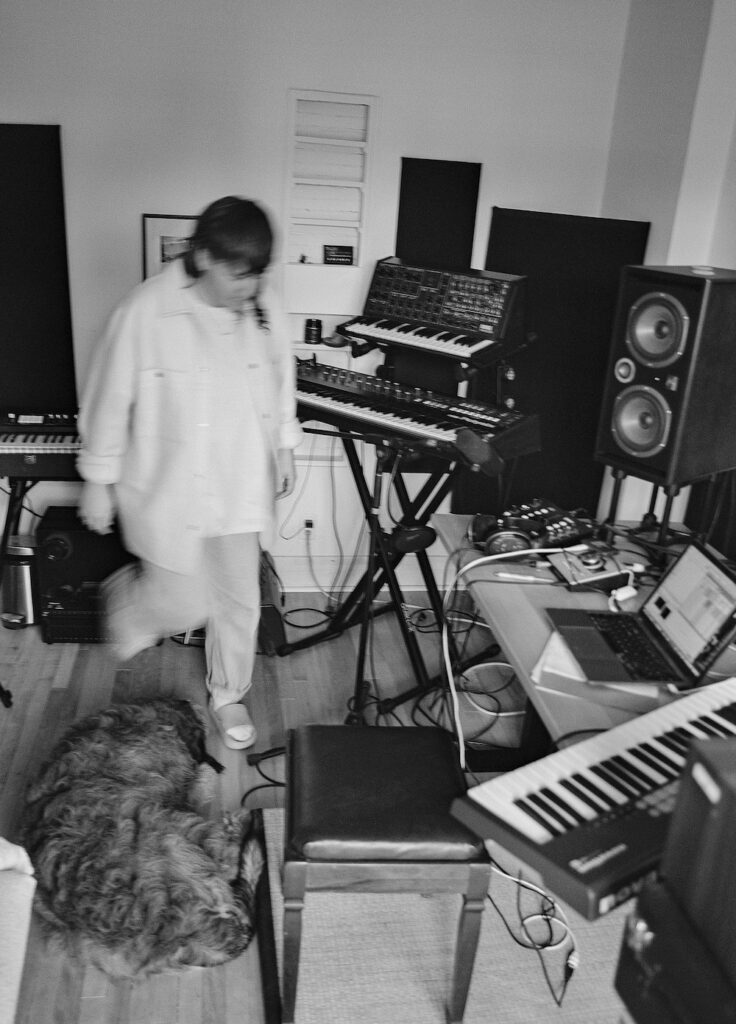 Cette paire de pièces musicales constitue la première d'une nouvelle série de diptyques qui sera présentée au cours de l'année. FOXTROTT fait fi des règles et nous invite à la suivre dans ce nouveau périple. « J'aime la forme courte du diptyque en musique, où une pièce résonne avec l'autre dans une sorte de dialogue. Ce sont des mini-univers en soi. Après quelques années à me frayer un chemin dans l'industrie de la musique avec ses joies et ses problèmes, je ressentais le besoin de me reconnecter avec la spontanéité, la légèreté de la forme et avec la joie de partager la musique. En m'éloignant des structures plus rigides, j'éprouve un enthousiasme renouvelé. J'ai l'impression que je ne fais que commencer. » Ces deux pièces sont entièrement composées, interprétées et produites par FOXTROTT, avec une contribution de l'artiste OURI au violoncelle et à la harpe.
À propos de FOXTROTT
FOXTROTT est le projet de MH Delorme, productrice, chanteuse et multi-instrumentiste basée à Montréal. Sa pop expérimentale au son unique défiant les genres est remarquée par la critique depuis la sortie de son premier EP « Shields » en 2013. Avec ses albums « A Taller Us (2015) » ( nommé au Prix Polaris ) et sa trilogie « Meditations I-Ii-III (2018) », tous deux publiés par la prestigieuse étiquette britannique One Little Independent Records, Delorme a façonné un univers musical qui lui est propre, mariant une production à la fois audacieuse, élégante et viscérale, à un sens aigu de la mélodie portée par une voix puissante et remplie de « soul ». Sa musique a bénéficié du support appuyé des BBC1 et BBC6 ( Lauren Laverne, Annie Mac, Jamz Supernova, etc.), France Inter, Radio Canada, de la presse internationale ( I.D., The Fader, Line of Best Fit, Nowness, etc.) et l'a amené à se produire à Londres, New York, Paris, Berlin, Tokyo et plus encore.
Elle a aussi collaboré avec la Red Bull Music Academy en tant que mentor studio et, au cours des dernières années, s'est développée en tant que compositrice à l'image. Créatrice de la trame sonore de plusieurs longs métrages, elle s'est vue récemment décerner le prix pour la « Meilleure Musique Originale » aux Canadian Screen Awards pour son travail sur « Sugar Daddy » (Réal. Wendy Morgan, 2021)
Que ce soit avec son oeuvre personnelle, son travail de compositrice, productrice ou collaboratrice (Ouri, Jean-Michel Blais, Cadenza, Pierre Kwenders et autres), FOXTROTT navigue avec aisance à travers différents univers musicaux sans jamais y perdre sa signature, à la fois accessible et profondément personnelle. L'explication réside sans doute dans sa relation à la musique : « J'essaie d'oublier ce que je connais, mon intention est d'entendre quelque chose que je n'ai jamais tout à fait entendu. Je ne suis pas vraiment intéressée à copier les codes existants. Ma relation à la musique va de l'intérieur vers l'extérieur, et non l'inverse.
Instagram: https://www.instagram.com/foxtrottttttttt/
Stream / Save / Support