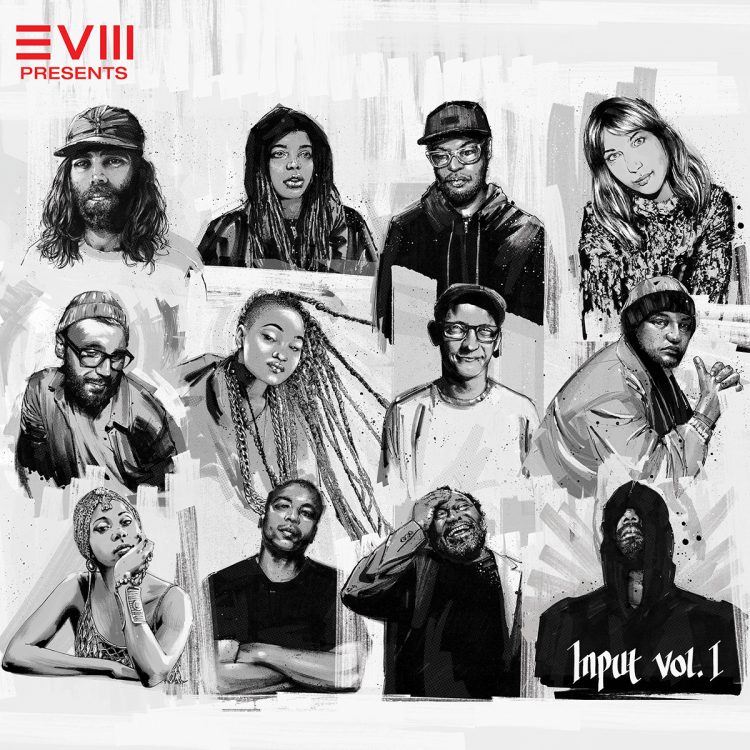 Exclusive Premiere: Gonzi & EVM128 "Gut Level" (Forthcoming INPUT VOL 1)
After meeting at CDR and doing the CDR Process together sponsored by PRS for music, EVM128 and James Rudie started to mess about collaborating with Gonzi who they also met through CDR.
After coining the concept of INPUT together it needed a home. EVM put it to Tony Thorpe at Studio Rockers and the seed was sewn. The concept is simple, Make a beat, pass it on and let someone else add to it. Its about letting go of self and letting the music go somewhere it wouldn't have gone otherwise …
It was a labour of love and took some time with the sending files back and forth until the track felt right. We brought in a bunch of talented musicians, producers, singers and rappers to fulfil the brief. Its about collaborating together, wether that be involvement in the mixing and arrangement process, performing on the track, adding a keys line, percussion, synth, bass, everything was a joint effort. Everyone got on board and we feel we have created something special and unique where you can hear each persons input in the tracks. We love it and hope you will too.
Pre-Order
A Little on the artists involved written by EVM128
James Rudie and Gonzi both killer producers met me at CDR and also became part of CoOp presents Selectors Assemble with IG Culture and Alex Phountzi soon after that. You can hear them both on Naughty Groove and Gonzi on Gut Level.
ISHFAQ is a very talented elusive musician/ producer that has been making beats for some time but somehow kept under the radar. He's a force to be reckoned with. Always quick off the draw and always sent through such high quality admissions that blew us away! Watch him cos he's dangerous! Hear him all over Naughty Groove on Keys and on Complete Me ft Natalie May. He just knows where to fit into a tune.. He has an acute ear!
TurboJazz met me after Djing together in Milan and working together on remix jobs where I remixed Turbo's 'Please You' ft David Blank on Local talk Records and in return Turbojazz remixed the EVM Beyond ft Uk Soul legend, OMAR. It was only natural to do a collab for the INPUT project.
iLL Smith aka MR K is a heavyweight producer making serious waves in the new Dubstep 140 low end scene. We met at Rolling Stock London where I was putting nights on. He gave me a couple tracks that were broken beat he had been sitting on and said "You should do something with these". One of which is GOLD which I only really added a Clap to and worked the arrangement and first mix down. I called on Daz I Kue for a rapper I'd heard on one of his tracks which had the right energy. Daz hooked me up with Nesha Nycee, a fierce rapper from Atlanta Georgia. She smashed it straight away and the tune just worked. This was probably the easiest out of all of them! Nesha Nycee is a REAL rapper who's super diverse.
Shy One is a friend of mine and has worked with me on music a few times in the past. I always love when she sends me a beat, she has that lo fi dirty grime kind of approach, then I add my style to it and it just seemed to bode well. We worked together on Mother Nature on the Nova LP and this track for INPUT (One Design) which we were sitting on for a while. Tony got Steve Edwards (All Seeing I, Sheffield) on the vocals. This was an unexpected turn on this track that we couldn't have imagined, but it worked! This track is the epitome of INPUT in that, it went somewhere completely different !
Steve Edwards is a singer songwriter from Sheffield who works on projects with All seeing I. He has such a great energy and the lyrics made me cry when I first heard it! For real man! Really amazing heart felt lyrics that speak of now and has a positive uplifting vibe to it that we can all relate to. It will stick in your head for ages believe me.
Natalie May met me through soundcloud. She's been releasing UK Funky tracks for a while and worked with Rudimental. She reached out to me after hearing the Nova LP and the stuff on CoOp presents. She went to the studio with me after already writing to some instrumentals. Very professional and on point in the studio. Her voice is sweet and the perfect juxtaposition to the rough bass and drums on 'Complete Me' and when ISHFAQ got his hands on it, well… Nuf said really !
Daiva from the Lithuanian band KeyMono has worked with me for a good few years. We met in Lithuania when I was teaching music production to young people through MTV, I met their manager Istvan. She was on my Naked Truth EP and the Nova LP. I Love working with Daiva she's great! Her voice is amazing as is her professionalism. She sounds somewhere between Erykah Badu, Little Dragon and Fatima. She's always my go to for any collaboration! Hear her on 'The Edge'. The lyrics were written by Kermit (Black Grape / Ruthless Rap Assassins)
Renato Paris.. wow ! I mean what!!? We sent the backing track and two days later he sent back the vocal and we fell over! He has a voice that echo's Stevie Wonder and Omar! Really professional work ethic too. Still cant get over how good he is. This guy can REALLY sing and play keys. Watch out for more from me and Renato… Bruk meets RnB / Jazz.