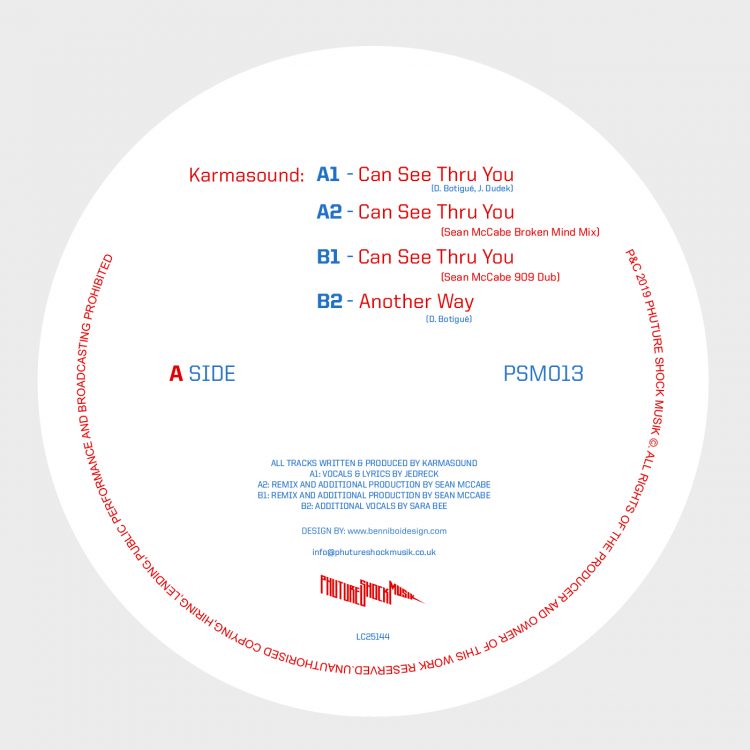 Exclusive Premiere: Karmasound "Can See Thru You" (Sean McCabe Broken Mind Remix)
Hot off the back of a well-received debut 12" – 'Probabilidades' EP – published on Phuture Shock Musik some 10 months ago, Damián Botigué aka Karmasound returns to deliver his follow-up release on the Bristol label, by name of 'Can See Thru You'.
For this second outing, the Barcelona-based producer steps into a collaborative mode and calls up on the smoky vocal talents of upcoming singer-songwriter Jedreck, to present a jazzy, late-night bruk affair with a range of influences that includes Neo soul, Latin jazz, Detroit house and broken beat, all doused in soulful warmth. In addition to the lead track, the release also features two inspired remixes by Bristol's very own soulful house don Sean McCabe, plus a bonus original track on the B-side to top off the disc.
Sean McCabe's Broken Mind Mix of 'Can See Thru You', who reimagines the track into a lively bruk roller geared more towards the dancefloor and injects an infectious feel-good vibe through the supplement of groovy keys and a frenzy of lustrous synths around the vocals, whilst driven by a funky drum pattern and lilting, boogie-indebted bass.
LABEL: PHUTURE SHOCK MUSIK
GENRE: BROKEN BEAT/DEEP HOUSE/SOUL
FORMAT: 12" VINYL
RELEASE DATE: 18th JANUARY 2019
For further information
www.soundcloud.com/phutureshockmusik
www.facebook.com/phutureshockmusik