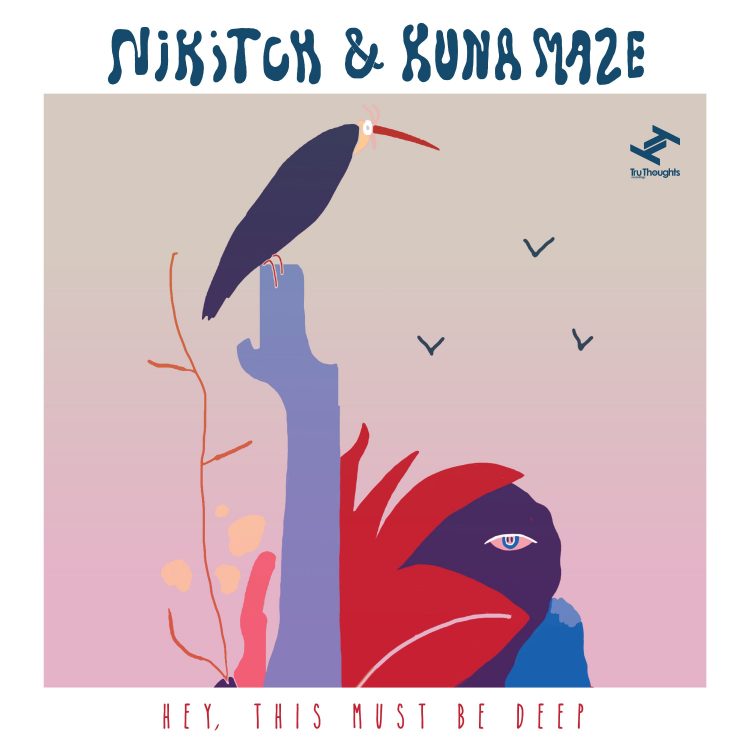 Exclusive Premiere: Nikitch & Kuna Maze "Hey, This Must Be Deep"
Killer dancefloor business from Tru Thoughts that should appeal to fans of house, broken beat and Brazilan jazz funk legends Azymuth.
The lead-single from France via Brussels, Nicolas Morant (Nikitch) and Eduoard Gilbert (Kuna Maze), collaborative album 'Debuts' (out 3rd July). "Hey, This Must Be Deep" meshes broken beat with Brazillian funk and is a homage to the words spoken by Gil Scott-Heron at his legendary one-man shows.
Pre-Order
Release info
Débuts' (out 3rd July) is France-via-Brussels duo, Nikitch & Kuna Maze's aka Nicolas Morant & Edouard Gilbert's first full-length album. Building on their collaborative EP "Mush", 'Débuts' continues to explore the melting point between jazz and club culture, interspersed with the signature sounds of broken beat, Chicago footwork, UK garage, Detroit house, and underpinned by their road-tested new live format.
'Débuts' is fronted by lead-single "Hey, This Must Be Deep" (out 23rd April), a track that evolves from a string-synth soundscape intro into a bruk swung-groove, with a firm nod towards Brazilian jazz/funk. The title of the single is a homage to the words spoken by jazz-poet Gil Scott-Heron at one of his legendary one-man shows.
The collaboration project between musician Nicolas Morant aka Nikitch and Brussels-based producer Edouard Gilbert aka Kuna Maze began when the duo met at the Chambery Jazz Conservatory in France. Before attending university to study jazz, both artists had trained in classical music while growing up in the Lyon countryside.
'Débuts' see's the band push their musical and creative development even further, a result of touring extensively around Europe with a live drummer, from high-brow jazz festivals to sweaty basement clubs. "We would be lying if we said our gig experience didn't influence us on this record" Edouard explains. "We discovered new aspects to songs such as "Bruk" and managed to push forward the energy side of the music from the rawness of the live shows. This energy empowered to produce and compose new material in the same vein".
Featuring standout tracks from their EP "Mush", such as the vibrant jazz-funk explosion "ZBRA", broken beat revivalist anthem "Bruk", downtempo and spoken words snippets of "JPS", the frantic footwork and juke influences in "The Leak", and soul-saturated "CBD", it's perhaps the newer material where the band begins to move beyond some of the aesthetical frontiers that they had in their creative path.
"We sung on "Francis' Theme" which is something we would have completely not dared to do before" explains Edouard. The risk pays off. Tracks such as "46 Rue Du Fort" and "Monopoli Driver" tie the feelings of shared experiences at geographical locations to the music itself. A frantic taxi driver in the Italian village of Monopoli is cemented into the footwork frenzy of "Monopoli Driver', "46 Rue Du Fort" is address of the rehearsal space in Brussels, and "Francis' Theme" is simply a soundtrack dedicated to Edouard and Nicolas, the Francis' boys – a nickname given to the duo by their drummer.
Musically influenced by the likes of Theo Parrish's Signature Sound imprint, Moodymann, Idris Muhamad and International Anthem's signee Resavoir, the duo take inspiration in the creative process of producers such as Max Graef and Glenn Astro. Nikitch & Kuna Maze channel their instrumental skills to create compositions using their common chemistry; blurring the lines between improvisation, production and the art of DJing. All these aspects become the creative DNA for the duo and become a catalyst in the music itself. "It is the approach to the craft" Nicolas says.
Support & Praise: Gilles Peterson, Tom Ravenscroft, Nemone, Lauren Laverne (BBC 6Music), CoOp, Lefto, Laurent Garnier, Toshio Matsuura (Worldwide FM), Tim Garcia, Tony Minvielle (Jazz FM), Nightmares on Wax, FACT Mag, XLR8R, Mixmag France, Le Mellotron, Trax, Music is My Sanctuary, Solid Steel, Majestic Casual +