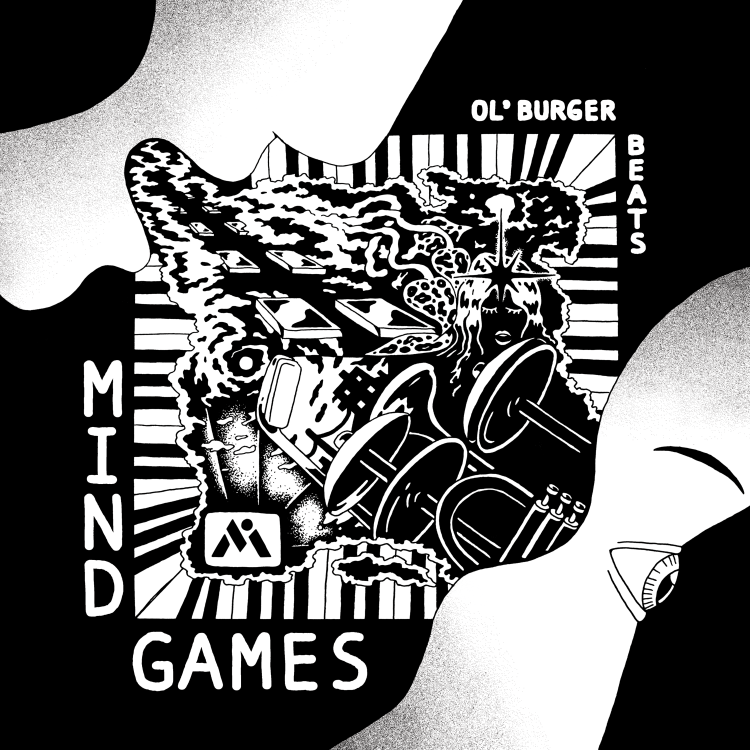 Exclusive Premiere: Ol' Burger Beats "Make Due (Feat. Denmark Vessey And Quelle Chris)"
'Make Due' is the first single from the album "Mind Games" releasing digitally April 28th and physically May 2nd through the Oslo-based label Mutual Intentions.
"Collages are a marvelous thing, every now and then, almost a magical thing. The process of layering materials that were not meant to fit together, such as fabrics with photos, is one of constant choice and assessment. Maybe these could fit with those? How can I make this sit well with that? As with physical objects, the process of creating sound collages will have you up late considering… contemplating… calculating… It can leave the strongest of minds numb. But then, all of a sudden, a magic moment occurs. "These" weirdly fit with "those", "this" somehow blends perfectly with "that", and creation just… happens. It will never cease to amaze me how some silky chords recorded on a sunny Ohio day, seem destined to be paired with a stumbling Polish drumbreak. That is the mind boggling, time traveling magic of beats. Pieces of sound, from different times and places, sometimes appear to be made for each other".
With these words in mind from lyricist Ivan Ave, we present to you Ol' Burger Beats' sophomore LP "Mind Games". The first LP on the newly founded label Mutual Intentions, and one of the most thematic releases we've done to this day. Ol' Burger is known in the beatmaking circles for his jazzy sound and great drums. With his latest "Unreleased Instrumentals EP" well received, it's now time to let the rappers jump on his beats. The feature-list includes underground heavy hitters like Chester Watson, Jeremiah Jae, Quelle Chris, Ivan Ave, Fly Anakin & Koncept Jack$on, and KAMI from SAVEMONEY.
Norwegian Jazz musician Kristoffer Eikrem contributes on trumpet and Arthur Kay Piene plays a shredding synthesizer solo towards the end of the track. Ol' Burger Beats also plays alto saxophone on the choruses.
"Mind Games" releases digitally April 28 and physically May 2 on the Oslo-based label Mutual Intentions