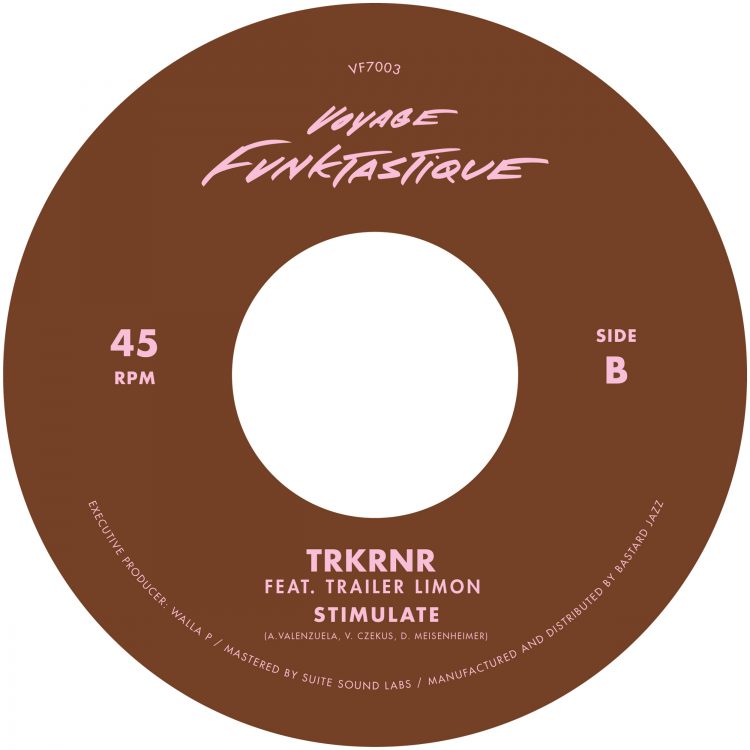 Exclusive Premiere: TRKRNR feat. Trailer Limon "Stimulate" (Voyage Funktastique)
SF Bay Area's TRKRNR (Track Runner) team up with Trailer Limon (one half of SF's The Pendletons) to create two insta-classics for the dance floor and the bedrooms.
The A side, Stimulate, a a playfull sex-funk exploration that will elevate dance floors and get pulses racing, while on the flip is "No Summer Days", a smooth, vibey Sade-esque track. This record definitely showcases TRKRNR and Limon's love for creating classic sounding songs that would be at home played back to back with Rick James or Blondie.
TRKRNR (Track Runner) based in Richmond, California, is comprised of childhood friends Saul Vallens (Allen Valenzuela) & multi-instrumentalist and singer Gyrefunk (Vincent Czekus). The two musicians and dancers, who grew up together in San Jose, Ca., draw on deep backgrounds of house, hip hop, rock and pop to create a future facing, genre-busting sound that is both soulful and highly danceable. Employing everything from kalimbas, djembes, synthesizers, guitars, bass and basically anything they can get their hands on, the two continue to turn out friendly, crowd pleasing music that is modern yet classic. They are at home making four on the floor bangers as they are making psychadelic beat pop, dreamy lounge and tightly produced hip hop.