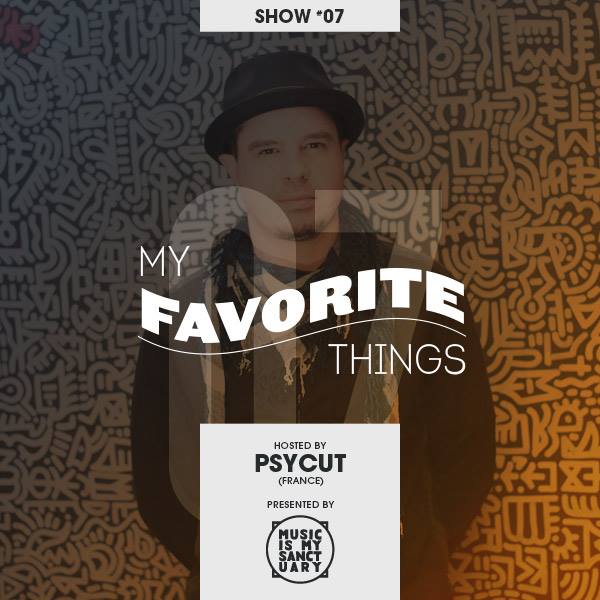 MY FAVORITE THINGS #07 – Hosted by Psycut
Here it is, the first "My Favorite Things" show of this year!
Deep as usual with a long introduction of spiritual tracks like the Danish "Placebo Sound" Iron Office, the brand new unreleased LP from Hermeto Pascoal, the surprising Reggae bomb by Dadawah, and the spoken word UFO from Alfred Panou on Saravah Records with AEOC. I must say "Nyssa" is my current personal favourite. I discovered it with help from the very nice French dealer "Boul-O" from the Gemini Cricket Records Shop. I'm still looking for Jazz and Hip Hop, and still buying up indie Rap like the heavy track "Industry Lies" by Mood, produced by Hi-Tek. After a section of Soul & Funk tracks with the underestimated Miracles group and Rufus & Chaka Khan, we finish up with 3 Dancefloor Jazz nuggets, enjoy!
TRACKLIST
01 – DJ Psycut – Intro
02 – Iron Office – House of Brass
03 – Alfred Panou – Je suis un Sauvage (7inch)
04 – Nyssa – Rienne
05 – Dadawah – Seventy Two Nations
06 – Bob Cunningjam – Lover's Theme
07 – Web Web – Kings of Forbidden Lands
08 – Hermeto Pascoal & Grupo Vice Versa – Dança do Pajé
09 – VS Quartet – A Pou Zot
10 – Ruby Rushton – Butterfly
11 – Mood – Industry Lies (12inch)
12 – Anti-Lilly & Phoniks – Grow
13 – Davepsy – Old & New
14 – Billy Cole – Little Green Apple
15 – Mother Braintree – Sailing (7inch)
16 – The Big Hustle – 1,2,1,2
17 – The Miracles – Do it Baby
18 – Quinn Lamont Luke – Different Aspirations (12inch Cosmic)
19 – Richard Marks – Funky Four Corners (7inch Vocal)
20 – Solid Pleasure Feat Snooky – Solid Pleasure (12inch)
21 – Odyssey – Battened Ships
22 – Rufus feat Chaka Khan – Have a good time
23 – The Beginning of the End – When she made me promise
24 – Jae Mason – Let it Out
25 – Vincent Gémignani – Liberalia
26 – Prague Big Band – Portrait
27 – Katalenic-Kwek Band – Magnetic Fuss
DOWNLOAD LINK
Listen & Subscribe to MY FAVORITE THINGS on iTunes