What I love about our Forgotten Treasures section is that we pretty much make up the rules. Mainly, it doesn't have to be about uber rare shit. We're not trying to impress you all the time with our crazy knowledge of Italo Disco or long lost Russian Jazz. Sometimes a forgotten treasure can be a club classic too. Just one that happens to be kind of slept on.
"Why", by Carly Simon, was a track from a less successful period in her career (specifically in the US) for the movie Soup for One in 1982. The movie flopped but the soundtrack was a success. The song, like all of the soundtrack, was produced by Edwards & Rodgers of Chic fame.
Seriously, we need to do a Nile Rogers special at some point because the man is just criminally underrated and younger cats need to know about this bassline legend.
In 1989, the song re-surfaced on the Ibiza "Hacienda" scene, and cemented its status as a balearic classic. Known for its bass-line and funky drums it was then that the growing hip-hop scene in the USA began to pick it up, 7 years after the original release. The song re-entered the UK charts the same year, charting at #56.
Carly Simon - Why
An extremely rare version of the song performed by Chic circulates in Ibiza. In fact, the Chic version appears as Side 2 of the WEA 12″ single pictured below on this page.
Carly Simon - Why (Instrumental)
Carly Simon's "Why" is one of those tracks that just works in every way. From the perfectly balanced backing beat with enough funk in the groove to keep it moving, while still maintaining that sentimental mood, to Carly's lovely longing vocals – this is pure balearic perfection.
Oh, and here's a bonus forgotten treasure for you: CJ Mackintosh's remix for ATCQ's "Bonita Applebum" using the instrumental version of "Why". Pretty rare version of the track, the most known remix of Bonita being the "Hootie" mix which samples the classic Isley Brothers "Between the sheets"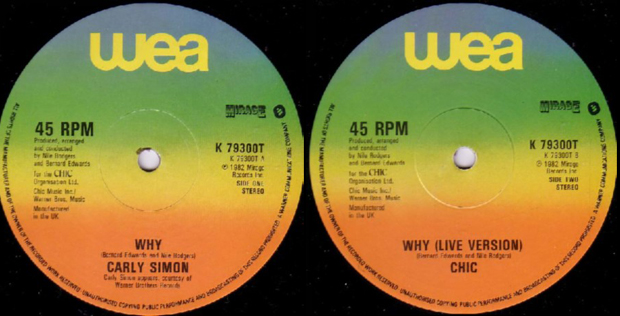 Producer, Arranged By, Conductor – Nile Rodgers And Bernard Edwards*
Written-By – Bernard Edwards And Nile Rodgers*
Notes▼
Produced, arranged and conducted for the CHIC Organisation Ltd.
Carly Simon appears, courtesy of Warner Brothers Records
Chic Music Inc./Warner Bros. Music
℗ 1982 Mirage Records Inc.
Manufactured in the UK
Side two title as on back cover, label reads Why (Live Version)
…
Oh. And while we're on the subject here's a 2step / UK Garage cover of the song that i've always looooved but been too scared to play
Glamma Kid - Why (10° Below Vocal Remix)