Forgotten Treasure: Paul Bley "Footloose" (Savoy, 1963)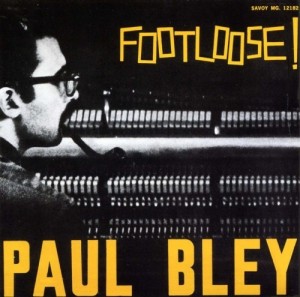 It is about 10pm in Philadelphia on January 5, 2016. After an unusually warm spell the strong gust of winter has hit us hard. I awoke this morning to the news that one of my heroes had passed away. Canadian pianist/ composer (Hyman) Paul Bley was born in Montreal in 1932, and had a career that spanned over six decades. I first came across Bley's work via his seventh LP entitled Closer (ESP-Disk, 1966).
The sounds on that LP were something familiar, yet different to my ears, as the compositions and his playing didn't always match to me. I found this to be the case for many of Bley's records that I would acquire over the years. Eventually, after getting into his Rhodes/ moog heavy work of the 1970s, I came across another record of his that looked nothing like the rest. Footloose (Savoy, 1963) predated my introduction to his work by a few years and had a completely different sound to it.
The first thing to notice about Footloose is the cover. Bley is, presumably, sitting in front of an open piano front/ top with all of the strings and hammers exposed. His profile is detailed by thick-rimmed glasses, a handlebar mustache, and a mean ass pipe. With large yellow letters announcing the artist and the title, this record just looks awesome… and luckily it is just that.
Footloose starts off hard, opening with a take on "When Will the Blues Leave" by the great gawd himself, Ornette Coleman. When Coleman released his version on his debut Something Else!!!! (Contemporary, 1958) the Jazz world was a different place. Ornette startled most listeners with his hard Blues based improvisational-sensationalisms, yet by the time Bley cut his lp, Ornette, and a gang of followers, had put this new freer style of playing in the forefront. Accompanied by Steve Swallow on bass and Pete La Roca (née Peter Sims), the trio bounces along at an upper mid tempo that gives the listener the sense that Bley is playing on the edge of his stool. There is a beautiful section (break if you will) at the end of the track where Swallow is left to carry the tune, without ever going into a solo. In turn, this breather is then, somewhat, given to La Roca to solo for a short amount of time. Though brooding in title, the tune is actually lighthearted and breezy… delightful, shit… cheerful even.
Ornette's tune is the only one that would have been well known, as the rest of the compositions were penned by Bley and his then wife Carla Bley (née Borg). "Floater" is quite spacey and all around spectacular. The tune is a bit more along the lines of what you would expect in Bley's work on albums like Barrage (ESP-Disk, 1965). Written by Carla, "Floater" is beautiful and dark, starting with the sound of impending doom that gently flows into a sea of steady improvisation. Any early 1990s Hip Hop producer could drop a needle anyplace and make a few beats of a lifetime out of this banger. Though the soloing is beautiful, the rhythm section holds it down with the strong pulse. Though they came about around the same time, the tune reminds me a lot of some of Andrew Hill's work on his first lp, So in Love (Warwick, 1960).
While Paul's "Turns" has the feel a of Vince Guaraldi tune written for the Peanuts gang (and I'm definitely bout that life), you start to notice and appreciate the well-roundedness of the man, his choice of compositions, and his soloing techniques. He's a musician that's not afraid to get into his feelings, whether they be light or dark. The natural approach to his playing seems to reflect his years of woodshedding, though his experience at McGill's Conservatory probably didn't hurt any.
Carla's "Syndrome" is prolly my favorite piece on the record. I can't really place why it is, but it gives me the feel of a Pete Rock track, circa 1994, waiting to happen. As the lp closes out with "Vashkar" I get the feeling that many music lovers in the world won't get the same experience that I get listening to this music, which is a shame. Paul Bley lived to be 83 years old, and apparently he kept up to the end of his life. We should all be so lucky to be able to find creative ways to express ourselves and innovate within our chosen mediums for so long.
Album Credits
Bass – Steve Swallow
Design – Pierre Bompar
Drums – Pete LaRoca
Liner Notes – Philippe Carles
Photography By – Giuseppe Pino
Piano – Paul Bley
Producer [Serie Dirigee Par] – Jean-Louis Ginibre
Written-By – Carla Bley (tracks: A2, A4, B1, B3, B4), Paul Bley (tracks: A3, B2)