Hailing from Hawaii, Society of Seven was a group that put out a few slept-on records in the early 70's. Available only on the "Simply Ourselves" LP (Silver Sword Audio), the cover version of George Gershwin's classic "Summertime" is a killer both on the Jazz Dancefloor and Soul / Funk scenes.
I discovered the track a year ago in a mix from DJ Pharoah (from Nantes in France) and from the very first listen I was conquered and every one on the dancefloor agreed. A fantastic record which gets even better thanks to a pretty hillarious record cover, the seven band members in white suits with traditional hawaiian beads."
---
A1 Summer Symphony 3:20
A2 Song Sung Blue 4:00
A3 Superstar (Remember How You Got Where You Are) 3:57
A4 Summertime 3:09
A5 Lord's Prayer / I Believe 4:25
B1 Welcome To My World 2:48
B2 Alone Again Naturally 3:52
B3 I Gotcha 2:29
B4 Akaka Falls 3:35
B5 Down By The Lazy River 3:31
B6 The Godfather 3:42
Credits
Arranged By – Ernie Freeman
Producer – Ernie Freeman
Notes
Recorded at ID Studios, Hollywood, Calif.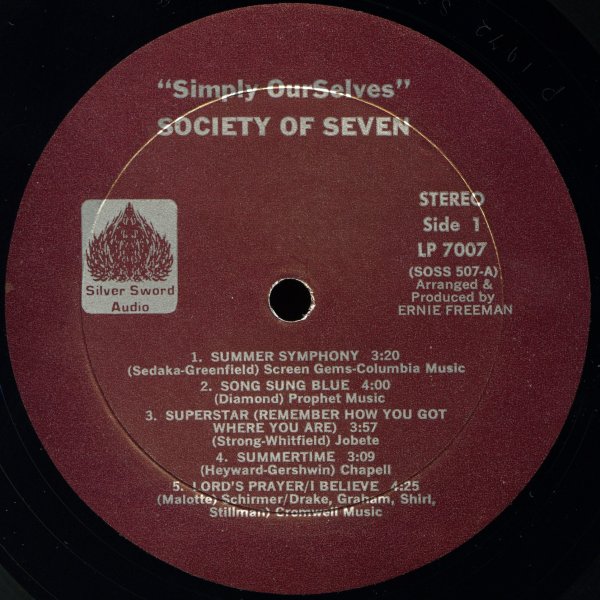 ---
DJ PSYCUT Links
http://22tracks.com/#par/funk/
http://www.mixcloud.com/djpsycut/
https://www.facebook.com/pages/Jazz-Attitudes/164145323664321