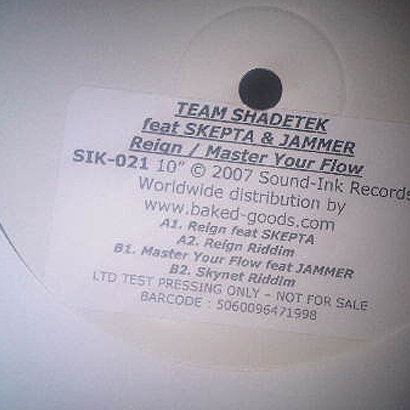 Forgotten Treasure: Team Shadetek ft. Skepta "Reign" (2007)
I usually pick at least one track from DJ's when they come through our event called 24 Hours of Vinyl, always an amazing way to discover track you had no idea existed. Finding which one to pick from Poirier's set is pretty damn hard because even though he played the shortest set (1 hour) from the entire lineup he definitely killed it at our first edition! He brought all kinds of white labels, dubplates and promos given by friends.
This one however completely killed me. A white label 10″ from Team Shadetek (Matt Shadetek & Zack Tucker) with Skepta and Jammer absolutely murdering the track. It's a pretty crucial record because it is a very rare collaboration between the US and the UK on a grime track. The production is definitely on par with the highest of standard sets by the Brits when it comes to this stuff. Definitely in the same league as Mark Pritchard productions…
Poirier decided to play the instrumental version called the "Reign Riddim" and had all the DJ's at my place wanting to break something!
A strong candidate for one of the heaviest snares of alllll-time! It sounds like a baseball bat hitting a pan, recorded through a megaphone!
Team Shadetek - Reign Riddim
Team Shadetek ft. Skepta - Reign