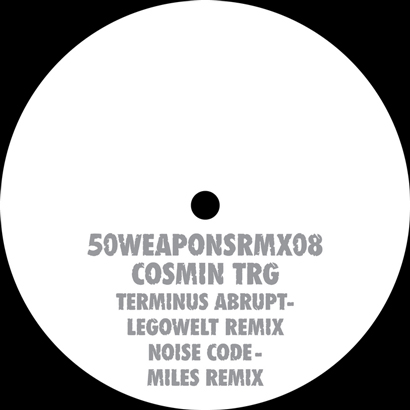 Future Classic: Cosmin TRG "Noise Code" (Miles Against the Grain Remix)
For me anything related to techno is more of a winter thing, I rarely catch myself popping in some Shed, Andy Stott, Dettman or others on a beautiful summer day. But with the return of the dark depressing days of winter in Montreal when the sun sets at 16h30 I am now in the mood for some techno for the next couple months.
50 Weapons is one of those can't miss labels to which each release needs your close attention because they just might be a game changer. When I saw the new remix EP from Cosmin TRG with tracks from Legowelt AND Miles Whitaker from the amazing Demdike Stare duo I knew this was going to be a strong one.
Legowelt delivers a strong performance no doubt with the nice synths, flutes and some nice rave nostalgia. But for me the one is "Noise Code" remixed by Miles Whitaker who is really underestimated in the techno world in part because he doesn't put out a ton of stuff and that Demdike Stare is mostly seen as an ambient/electronic/experimental group (had a chance to interview them in 2008).
A dark and menacing yet cinematic trip! No laptop speakers for this one!