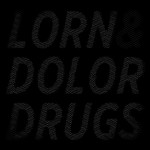 This EP by american electronic musician (via Milwaukee, Wisconsin) Lorn and Dolor is really mysterious. Lorn had been signed to Flying Lotus' Brainfeeder imprint but now is on Ninja Tune. Kind of a change of pace but then again not really because Brainfeeder is distributed by Ninja Tune now…
If you know about the impressive work of Lorn, this EP is more on the "trippy" side. Of course, the beats are still there but let's just say the title – "Drugs" – is fitting. "EP" because there is only 3 tracks. Each track contains many intricate beats and the shortest is 15 minutes… You can't go wrong when the first track begins with a sample of an old National Film Board (of Canada) documentary about drugs.
This virtual drug is, as opposed to real drugs, is free! It's all on youtube like this sample but go to the dedicated webpage to download the release.