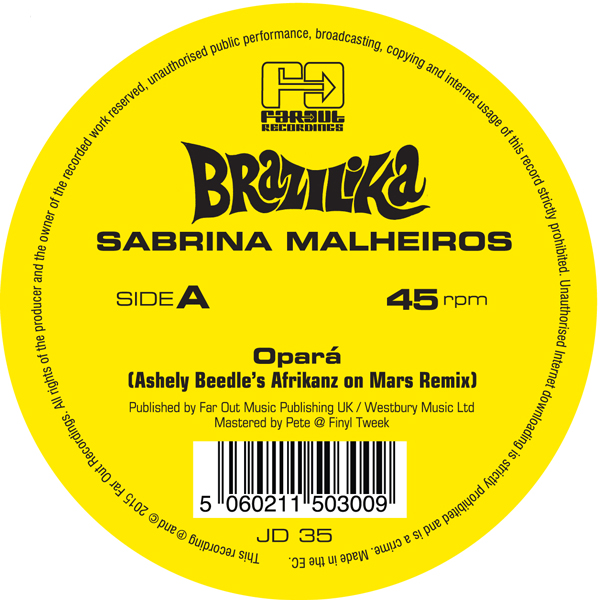 Future Classic: Sabrina Malheiros "Opara" Ashley Beedle Remixes
via Far Out Records: "Following the sold out Theo Parrish remix of Marcos Valle's '1985' back in April, the second release in Far Out's Brazilika 12" series features a highlight from Sabrina Malheiros' 2011 album 'Dreaming': the blissed-out, sun soaked samba classic 'Opara', which gets three scorching remixes from UK dance veteran Ashley Beedle.
Currently celebrating a decade since the release of her critically acclaimed debut album 'Equilibria', Sabrina Malheiros has remained at the forefront of modern, soul-infused Brazilian music. Growing up in Rio, the daughter of Alex Malheiros, bassist of Jazz-funk pioneers Azymuth, Sabrina has taken the legacy of samba and bossa nova and forged her own forward-thinking path, taking with her all the style and substance of the early days.
Produced under his Afrikanz On Marz moniker, Beedle's remix brings all the right elements of the original to the fore. The result is three peak time excursions into percussive, soulful house on a stylish, cosmic Brazilian party tip, infused with rich, warm rhodes, synth and flute throughout.
The vocal mix on the A side provides a spacious backdrop of twinkling keys and buoyant percussion to Malheiros' gently floating strains. The other mixes offer similarly floor-focused variations: the aptly titled 'Galactic Flute Remix' on the flip pairs the titular wind instrument with a deeper groove that retains the loose-limbed appeal of the original, plus a bonus instrumental to boot. A sure fire heat bringer and certainly one of the most colourful dance 12"s we've heard this year.
Pre-Order Record
The Brazilika 12" series is the new vinyl home to the previously unreleased dance exclusives taken from the Spiritual South mix on CD2 of Far Out's 20th anniversary double compilation, released in May 2015."