Exquisite new three track EP from veteran Austrian producer SAM IRL who returns to German label Jazz & Milk for his second release called the "Free Two Grow" EP.
I first heard Sam Irl's work on Pulver records in the mid-2000's at a time when the Broken Beat and Nu-Jazz scene was moving beyond the concentrated London scene. Artists like Inverse Cinematics (now known as Motor City Drum Ensemble), Dublex Inc and Sam IRL were all making really interesting music that was in relation with the Broken Beat movement but slightly more polished and musical than their UK counterparts.
I rediscovered Sam Irl in 2012 when my friend Mr. Guan of The Loud Minority crew told me about this great new "Slower Bavarian" EP from the Vienna-based producer. Over 2 years later, he's back with a brilliant new EP from which i've already played 2 tracks in different mixes.
"The EP starts off with the title track "Free Two Grow" (on my monthly MIMS #74 Show), an MPC live jam built around a hypnotic loop slowly developing into a heavy synth-driven Deep House tune. The B-side cut "Ions" (on my Worldwide Festival Mix) builds on warm jazzy chords backed by tight rolling drums, creating a melancholic as well as a deep percussive vibe.
Representing his versatile musical background and his roots in Hip Hop culture, "Einerfuerheiner" combines heavy-hitting MPC-drums, raw sampling, dubby synth textures and a weighty bass foundation."
Highly recommended record. Available on Digital or Vinyl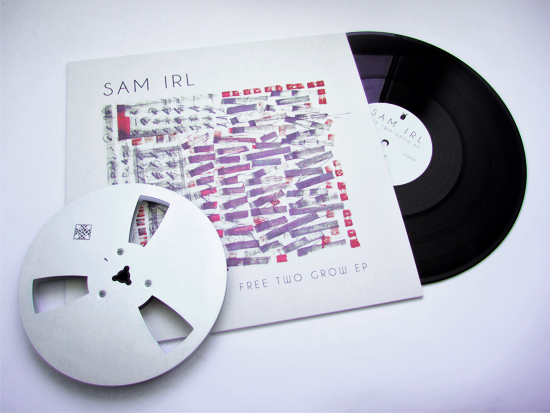 About SAM IRL
Sam Irl is a producer from Vienna worth keeping an eye on. He has released on Gilles Peterson´s Brownswood Recordings ("Kutmah presents Worldwide Family Vol. 2" with Ritornell), Pomelo Records (as "Pulsinger & Irl" together with Patrick Pulsinger), Frank Music, Bonzzaj Recordings ("Untitled One" with Dorian Concept) in Switzerland and others. Besides releasing his own music he has done remixes for Aloa Input (Morr Music), Inverse Cinematics (aka Motor City Drum Ensemble), JSBL (Affine Records), Swede:art, Trishes (FM4), G.rizo and Munich´s dialect-Hip Hop-group Doppel D.
Originally hailing from a small village in rural Lower Bavaria, Sam Irl has been living and working as a producer and recording engineer in Vienna for quite some time now. He produces tracks of various styles, ranging from sample-heavy MPC Hip Hop beats, analogue tape-recorded synthesizer Funk to raw Broken Beat and Deep House tunes.