Dualismo Sound Records is an independent vinyl-only label started in August 2017 specializing in reissuing forgotten Italian Funk jams.
For this mix, Andrea digs into the period from 1975 to around 1981, one of the funkiest times in Italy's music history where Italian Disco became a solid reality. "I've selected a few Italian records (never reissued and all first presses) that represent the sound that my label is pushing. I've also included a joint from my first release (Paolo Zavallone) and two future releases. A fun fact is that two of the records that I played were themes from television programs. After the Italian television reform in 1975, creativity increased heavily and every program had an incredible theme! Hope you dig."
TRACKLIST
Rigol & Atta – Love and Tedium
Sergio Prandelli – La Paloma
Armando Cusopoli – Ain't no Sunshine
Shaba – Sambamanao
The Monks Group – Music, Music, Music
Enrico Intra – Starbus
Enrico Intra – Insieme
Paolo Zavallone & His Orchestra – Yellow Fever
Gruppo 2001 – Stratosfera
La Comune Idea – Cuore di Serpente
Odeon – Disco Boy
The Yetians – Funky Disco Sound
Manhattan Express – I Came to Dance
Oscar Rocchi & His Orchestra – Jane
Enzo Minuti & His Orchestra – Happy Band
DOWNLOAD LINK
---
Follow Dualismo Sound Records:
Bigcartel
Facebook
Mixcloud
Instagram
---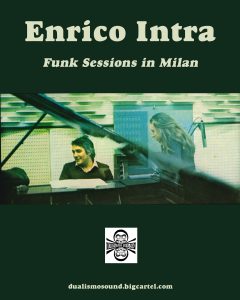 Dualismo Sound's next release is a reissue of Enrico Intra's "Funk Sessions in Milan" which is available for preorder now and is officially available on February 12, 2018. The first 50 copies are autographed by Maestro Enrico Intra himself, so don't sleep!